A veteran actor is who can justify portraying every type of characters provided to him or her. In Odia film industry, Mihir Das is such a name who is really regarded as one of such brilliant actors of Ollywood. Starting from entrance into ollywood as a supporting actor, he has played a number of roles in hundreds of movies taking each and every character and portraying them by heart.
Be it the character of the main lead(hero) or be it the character of the villain, be it the character of a comedian or even in father character, Mihir has proved his versatile talent in each and every movies.
Within his long spanning Odia film career, Mihir was, is and will remain as the favourite actor of all Odia people. The winner of several film awards, Odia Actor Mihir Das should be known in depth.
Biography
Mihir Das Birthday is on 17 February. He was born on 17 February 1966 in the Mayurbhanj district of Odisha. Mihir Das presently lives in Cuttack.
Mihir Das married to singer and film artist Sangita Das, daughter of famous Odia singer Chitta Jena. Sangita died in suffering from health issue leaving behind a son named Amlan.
Debut into Films
It was an art film, or more like a documentary named 'School Master', Mihir Das debuted with. But the commercial Odia movie in which he debuted was "Mathura Bijaya". The first movie he came to be noticed by the audience for his stunning performance was "Pua Mora Bholashankar." Directed by vetran Ollywood Actor and director Hara Patnaik, the movie was a biggest block buster and Mihir Das was highlighted for giving extraordinary performance. He became a star after the success of the movie.
The Dedicated Actor
Very few actors in the Ollywood industry experiment on their roles. Mihir is one such a name. He never ever like to perform whatever is written on the script. Instead, he uses his own brain and experience to add value to his content. Reading the script he himself understands the needs of the scene. he himself puts in the situation of the character and tries to live that one.
Mihir Das is popularly known as the Paresh Rawal of Odia film industry. in a movie called wrong number which was a remake of Herapheri, Mihir Das played the character similar to Babu Rao as played by Paresh. Mihir took any challenging roles and proved himself worth of those.
Beginning in the 90s, Mihir lived his complete life dedicated to Ollywood. Daily opera soaps, movies, TV shows, every where Mihir has created a good name for himself. Too confident and bold actor, Mihir Das never turned the audience's mood off.
Expressing Versatility
Pathetic
Mihir Das and versatile are synonymous. Mostly appeared in character roles, Mihir nailed some of the pathetic scenes. Whenever he takes an emotional scene, people become obsessed to watch. Pua Mora Bhola Shankar is such a movie, critically acclaimed by Odia people in which Mihir has performed elegantly.
Dual character
In some movies, Mihir Das displays the glimpse of his talent by accepting a dual character. In a movie named Tu Eka Ama Saha Bharasa, he acted in a double role, one of an innocent person Bhola and the other of an angry man Shankar, which is one the best Odia movies. Sidhaant also played an important role in the movie. 
Villain
Das played in various films, the role of an antagonist. One of such a movie is Baazi in which he gave brilliant performance. Abhimanyu is another movie in which his role as Kaka remains in the memory of the audience.
Comedy
Humor is inbuilt. An actor without humor is not worthy. Since his entry into Odia industry, Mihir never failed to tickle the funny bones of his fans. In most of his movies, a shade of humor is seen.
Accolades
Mihir Das has own several awards for his contribution to Odia Film industry. Some of his best works include, Laxmi Pratima in 1998 and Pheria Mo Suna Bhauni in 2005 for which he bagged film awards.
He also bagged the Best Supporting Actor award for his films Rakhi Bandhili Mo Rakhiba Mana in 2002 and Prema Adhei Akhyara in 2010 from the Odisha state government.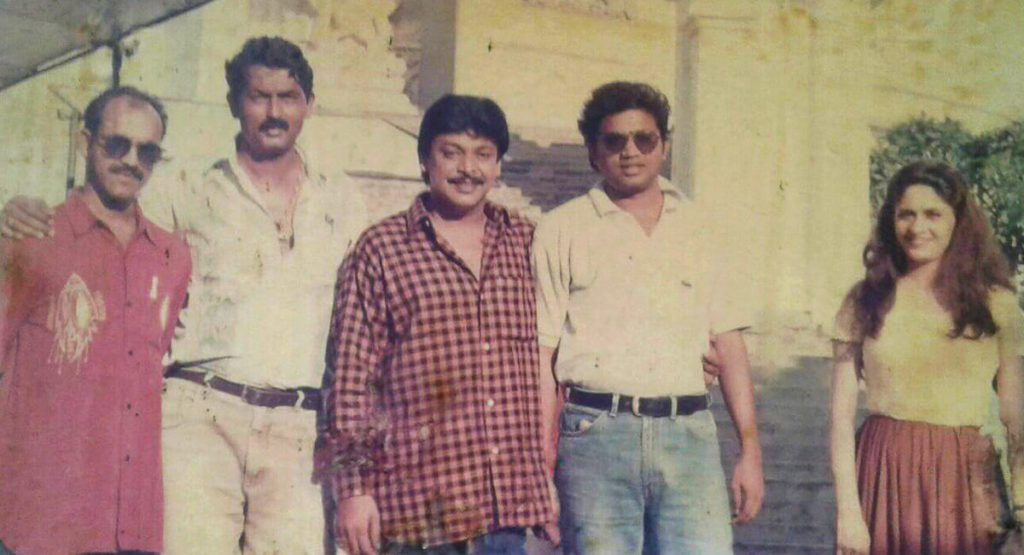 Mihir was awarded as the best Supporting Actor award for Laxmi Protima in 1998. He also got the best Actor award for Bidhata in 1999.
His other awards include
Best Supporting Actor award for Rakhi Bandhili Mo Rakhiba Mana in 2002.
Best Actor award for Pheria Mo Suna Bhauni in 2005.
Best Comedian award for Mu Tate Love Karuchi in 2007.
Best Supporting Actor award for Prema Adhei Akhyara in 2010
The Evergreen Actor
Mihir Das is has always nailed it to keep the audience spell bound and stick to the edges inside the theatre. He is always a sensation of the Odia movie industry through his acting in oriya film industry
In the 90s, he always acted as the main lead and as villain in a few movies. Now-a-days, he is taking the paternal roles. Still he is capturing the audience in every film. Mihir Das's experimental approach in every character makes him so special. He is seen in most of the oriya films and all the movies have one name in credit, the name is Mihir Das.
The latest movies in which Mihir Das appeared are Babu Bhaijaan, Chhabi Rani, Jor Ka Jhatka, Tu Kahide I Love You and Khusi.
Earning a name and fame of own is really really tough. But that can be achieved through dedication, hardwork and discipline. The very versatile actor, Mihir Das conveys this message to the nation.