Potagarh of Ganjam, a beautiful district in the vibrant state of Odisha, is home to numerous historical sites and architectural wonders. Amongst these, one particular fort stands out, as it carries a rich history and holds significant importance. Potagarh, also known as Puri Ganj Fort, is a hidden gem nestled amidst the picturesque landscapes of Ganjam.
Located at the confluence of River Rusikulya and Bay of Bengal, Potagarh is a testament to the glory and grandeur of the past. Built by the Gajapati rulers in the 15th century, this fort served as a strategic military base and an important trading center during its heydays. Its location provided easy access to the sea, making it an ideal hub for maritime activities.
The fort's name, "Potagarh," is believed to be derived from the word "potua," which refers to the traders who used to operate from this site. These traders dealt with goods ranging from spices, silk, and textiles to precious gems and metals. The thriving commerce within this fort brought prosperity and economic growth to the region.
The architecture of Potagarh showcases a fusion of indigenous and European influences. The massive walls made of laterite stone are reminiscent of the traditional Kalinga style of construction. The fort's entrance is flanked by intricately carved pillars, exuding an aura of elegance and artistry. Visitors are greeted by arched gateways and majestic battlements, which bear witness to its robust defense system.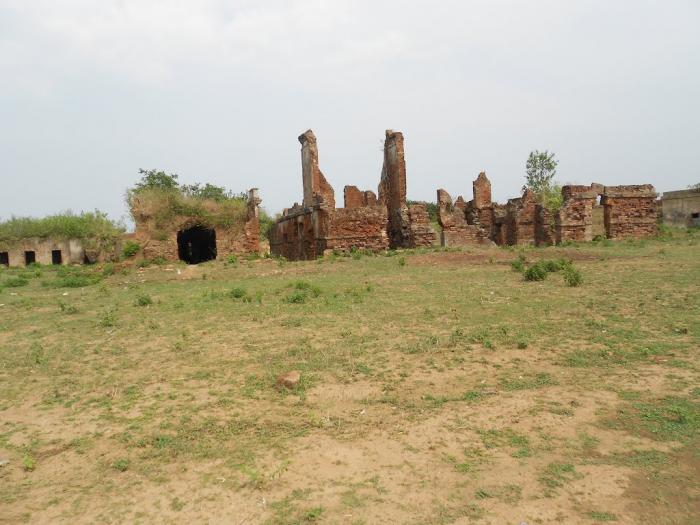 Inside the fort, one can explore the remnants of the historic structures that once adorned its courtyards. The Pateri Temple, dedicated to Lord Shiva, is a prominent religious site within Potagarh. Its architecture showcases a blend of Odia and Mughal styles, with intricate carvings depicting mythological figures and motifs.
Apart from its historical and architectural significance, Potagarh offers a mesmerizing view of the surrounding natural beauty. The fort stands tall atop a hill, providing a panoramic vista of the azure Bay of Bengal and the lush greenery of the beachside town of Chhatrapur.
Despite its historical importance and cultural heritage, Potagarh remains relatively unknown to many travelers. However, efforts are being made to promote this hidden gem as a tourist destination by the Odisha Tourism Development Corporation. The local administration is taking steps to preserve the fort's heritage and develop infrastructure for tourism.
Visiting Potagarh is like stepping back in time, immersing oneself in a bygone era of valor, trade, and cultural exchange. The tranquil ambiance and awe-inspiring architecture make it an ideal spot for history enthusiasts, photography enthusiasts, and nature lovers alike. Exploring the hidden passages and ancient chambers within the fort offers a glimpse into the lives and stories of the people who once inhabited this majestic edifice.
So, if you are planning a trip to Odisha, do not miss out on the opportunity to visit Potagarh. Experience the grandeur of a forgotten era, soak in the beauty of the surrounding nature, and create memories that will last a lifetime. Potagarh of Ganjam beckons, waiting to unfold its secrets and unfold the pages of history to those who seek adventure and enlightenment.
You can read our another post on 7 Amazing health benefits of Ajwain
Write A FAQ For Potagarh of Ganjam: A Hidden Gem in Odisha
What is Potagarh of Ganjam?
Potagarh of Ganjam is a lesser-known historic landmark located in the Ganjam district of Odisha, India. It is a fortified hilltop structure that served as a military outpost during British colonial rule.
What is the significance of Potagarh in Odisha's history?
Potagarh holds historical importance as it was a strategic location for the British East India Company to monitor maritime activities and maintain control over the region. It played a crucial role in safeguarding the coastline of Odisha.
How can one reach Potagarh?
Potagarh is easily accessible by road transportation. It is situated around 15 kilometers from the city of Berhampur, which is well-connected to major cities in Odisha. Visitors can hire private vehicles or take public transportation to reach Potagarh.
What are the major attractions at Potagarh?
The main attraction at Potagarh is the fortified structure itself, which offers panoramic views of the surrounding landscape. Visitors can explore the ruins of the British barracks, military installations, and enjoy the serene environment. The nearby Rushikulya River is also a popular spot for picnics and boat rides.
Is there any accommodation available near Potagarh?
There are limited accommodation options available near Potagarh, mainly in Berhampur city. Visitors can choose from a range of hotels, guest houses, and homestays in various budget ranges. It is advisable to make prior bookings if planning to stay overnight near Potagarh.