Let's start to learn about the bahubali of Puri, Anil Gochhikar. I have always been a skinny guy. After completing my engineering degree I went looking for a job in Bangalore, where stress and bad eating habits turned me into a stick. Nobody would have noticed me passing by the street. Then my brother called me back to Puri to decompress a little. When I reached my home town, my elder brother, who saw me after a long time, didn't recognize me.
According to him I was akin to a cloth hanger standing on the train station. So he literally forced me to join a gym. Next day I found myself in a gym facing the Puri beach, watching bodybuilders do their routines. My trainer Sanjay started training me in focused exercises in order to bulk up a little. I became a regular and soon my dedication started giving me results.
When I was doing my routine I heard a name repeated many times. The other regulars used to call this guy 'Nanaa', which in Odia language means 'father'. When I asked them who this was, they showed me the pictures on the wall. In one of those pictures a bodybuilder was holding a medal of the World Bodybuilding Championship 2014.
In another frame the same man was holding a gold medal of Mr International Indian 2016. They also told me that he was the owner of the "Gochhikar Hotel" and "Gochhikar Lifestyle Gym" where I was standing. I would later come to know his name.
FIRST MEETING
It would be a month before I finally saw the man who the others respected so much. I was amazed by the muscles of other members of the gym. But before his jaw dropping physique, the others were invisible. I could see every muscle coiling under the skin, such was his muscle definition. And his routine was more rigorous than the rest of us.
His dedication to body building motivated not only me but all the members of the gym. It was on this day that I realized that the others were right to call him 'Nanaa' and I started calling him the same. Soon I learned that is name was Anil Gochikar.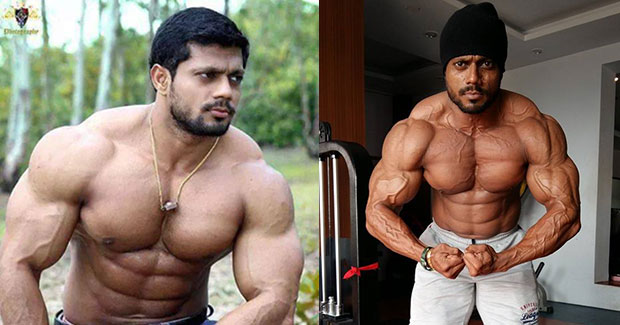 I practiced off and on for quite a while before finally leaving Puri in 2017. Fast forward to 2019, I was watching a news programme on TV when I saw a picture of a person of Puri who was photographed during the Ratha Yatra Festival. They had named him the "Bahubali of Jagannath Temple" for the his ripped musculature that could be seen while he was performing his service as a sevayat.
The picture had gone viral. He was all over the news, social media and even in YouTube videos. As soon as I saw the picture I recognized him. This was the same man that had motivated me to keep working out. I am very happy that he is still there to motivate others in an international level.
HOW IT STARTED
Nanna, started his journey of bodybuilding in 2009. His elder brother Damodar Gochhikar, who used to be a gold medalist in national level bodybuilding, had already left bodybuilding and had started managing their family business. Inspired by his brother, Anil started down the road himself when was 30 years old. Sadly he noticed that there were no gyms with good equipment in Puri. Fees were very high, time limits were very stingy and the supplements were very costly.
Hence Anil's brother sensing his passion started a gym in 2010 and started encouraging him. His brother was his guide, mentor, friend and everything since childhood. The dedication, passion and hard work and the encouragement, guidance and support of his brother finally started giving results. The Gochhikar Gym became the premier gym in Puri.
FIRST MILESTONE
2012, Anil participated in state championship in 65 kg category. Before moving ahead, let me tell you that bodybuilding competitions are structured according to body weight and in every weight category there is a separate winner. So back then, when he went for the trial, his weight was 65.4 kg. He could not have competed in that category without losing weight. He lost that extra 400 grams on the same day by running and testing again. Even the frustration and exhaustion after running a lot did not stop him from grabbing the gold medal. That was his beginning and from that day he never looked back.
ACHIEVEMENTS
| | | |
| --- | --- | --- |
| Event | Year | Achievement |
| Mr. Odisha Senior State Body Building Championship | 2012 | Gold |
| Federation Cup | 2012 | Silver |
| World Bodybuilding & Physique Federation | 2014 | Bronze |
| Mr. International Indian | 2016 | Gold |
| Mr. Odisha Senior State Bodybuilding Championship | 2017 | Gold |
| Mr. India 2017 Championship | 2017 | Most Improved Bodybuilder Award |
| Mr. Odisha Senior State Bodybuilding Championship | 2018 | Gold |
| Mr. India 2018 Championship | 2018 | Silver |
| Mr. India 2019 Championship | 2019 | Gold |
Anil is not only proving himself but he is also inspiring, motivating and guiding many youths of Odisha. Anil doesn't want others to face the same problems that he faced. So he provides all type of equipment, supplements and sufficient time for his students in the gym. He has actually helped many of his students financially. He also tries to convince parents who don't support their children in bodybuilding. He has trained many students who have actually won medals in national and state level championships.
Anil has a daughter, who he has encouraged to take up training in sport shooting. He says that government should encourage and support athletes who are preparing and winning in national and international level sports. Earning so much fame and name has not change him. He is still a down to earth person who loves his family, friends and students.
Read more: Pratibha Ray: The Writer, Activist and Humanist
CONCLUSION
If you find a diamond you have to process it first. But when it is ready, whether you put it in water or soil, mud or stones, it will still be a diamond. It will shine brightly. If it is not shining, may be something covering it. But when the dust is remove, it will shine. It will shine and remove all the darkness around it. Anil Gochhikar is a diamond. We are proud of him.
Finally to my readers, never forget that you all are diamonds. May be some of you are facing problems but remember these are the times when the world puts pressure on you. Come through to the other side and you too will be a diamond. Never lose hope and never back down because you will definitely shine.
Thank you for having patience.
Link
Gochhikar Lifestyle Gym page: https://www.facebook.com/gochhikarlifestyle/
Order Odisha Kansa products from OdishaShop today, the most trusted website of Odisha.