Indian literature, moreover, Odia literature consists of a few female lead writers who established themselves. Pratibha Ray is one such a name. On the base of soulful literature, she is the creator of ever living literature. Her writings comprises of various genres showcasing the human nature, conflict and well versed climax. Both in the category of short stories and novels, she has penned the best of her. The sensitivity in her writings can only be felt by the readers. 
Her stories and novels are not bound by time, historical or geographical limits. Sometimes her stories show the lifestyle of tribes while sometimes she speaks about the streets of London. This is the reason she is also adored by the knowers of international literature.
The literary world of Pratibha Ray comprises the free elements of the earth. Her writings not only include the tales of the village rivers, the dry and wet lands but also showcases the sophisticated city lives. In most of her best works, she pens down the dual nature of human, affections, conflicts and the typical life style of human beings.
The stories of Ray successfully illustrate the culture and traditions of Odisha along with human sensation. One of such exemplary work of her is Pratibha Kathakalpa. This one is such a realistic notion that captivates the reader with real feelings. The collection of story book throws light on the emotions, attachments and sentiments of an Odia family along with the social condition of Odisha.
Pratibha Ray is a prestigious name taken in the field of Odia Literature. As a leading lady story writer in Odia language, she has devoted her life to the Odia story section abruptly.
Some of her notable works include Yajnaseni and Sheelapadm.
She has been awarded with prestigious awards like Jnanpith Award and Moortidevi Award.
Pratibha Ray is also an academic. She basically writes stories In Odia language. She was born on 21 January 1943.
Early Life
Her birthplace is Alabol, a remote village in the Balikuda area of Jagatsinghpur district. Ray became the first woman to win the Moortidevi Award in 1991.
Pratibha completed her M.A in Education and PhD in Educational Psychology thereafter. She was a student of Ravenshaw College of Cuttack. Her post-doctoral research was on Tribalism and Criminology of Bondo Highlander, one of the most primitive tribes of Odisha, India.
Her husband Mr Akshaya Ray is an engineer. Even after managing a family of children, she continues writing. She is a true example of women empowerment.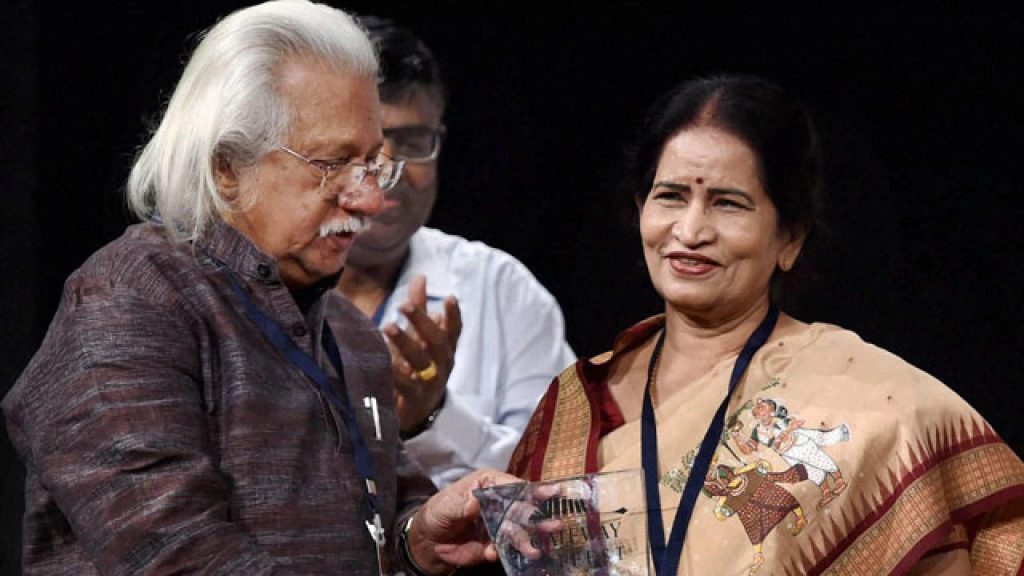 She has worked as a teacher for almost thirty years in various schools and colleges of Odisha. During her academic career, she has guided doctoral research and has published many research articles. She took voluntary retirement as a Professor of Education from State Government Service and joined as Member, Public Service Commission of Odisha.
The First Penning
Ray started writing at a very young age of nine. When she wrote for a social order, based on equality without class, caste, religion or sex discriminations, some of her critics branded her as a communist, and some as feminist.
But she says "I am a humanist. Men and women have been created differently for the healthy functioning of society. The specialities women have been endowed with should be nurtured further. As a human being however, woman is equal to man".
Most of the works of Pratibha Ray are work of fiction. She writes only in Odia language. She published her first novel in 1974 titled Barsha Basanta Baishakha which was a best seller.
A Social Activist
Not only a writer she is but has active participation in social reforms. She demands a rational curve in the society by appealing for social justice. She has successfully led the protesting against racism and defamation.
She also worked for the people of Odisha during the 1999 super cyclone. She took part in the rehabilitation of the orphans and widows of Cyclone affected areas.,
Pratibha is also a number of learned societies. She is connected with the Indian Council for Cultural Relations, Central Board of Film Certification, Indian Red Cross Society, India International Centre, National Book Trust of India, Central Academy of Letters etc. She has traveled extensively in India and abroad to participate in various literary and educational conferences.
Notable Works
Pratibha Ray has gained popularity for her amazing novels, stories and travelogues. The list follows :
Pratibha ray novel in odia language
Barsa Basanta Baishakha (1974)
Aranya(1977)
Nishiddha Prithivi (1978)
Parichaya (1979)
Aparichita(1979) (A film was made & won Best Film-Story award from Odisha State Govt., Department of Culture)
Yajnaseni, 1984 (Moorti Devi Award,1991 and Sarala Award, 1990. Tr. to English, Hindi, Malayalam, Marathi, Assamese, Bengali, Gujarati, Hungerian)
Dehatita, 1986
Travelogue
Maitripadapara Shakha Prashakha (1990)
Dura Dwividha (UK, France), 1999
Aparadhira Sweda (Australia), 2000
Short Stories
Samanya Kathana – 1978
Gangashiuli – 1979
Asamapta – 1980
Aikatana – 1981
Anabana – 1983
Hatabaksa – 1983
Ghasa O Akasa
Chandrabhaga O Chandrakala – 1984
Shrestha Galpa – 1984
Abyakta (made into a Telefilm) – 1986
Itibut – 1987
Haripatra – 1989
Prthak Isvara – 1991
Bhagavanara Desa – 1991
Manushya Swara – 1992
A Gem of Literature
As her name suggests, she is a real Talent of our country. A few ladies could gain such name in the field of literature. Pratibha is a true gem for the Indian literature. Odisha is blessed to have got such a daughter who has proved herself not only as a famous writer but also as a social activist.
Order odia novels by pratibha ray from OdishaShop today.