Odisha, the land of temples and beaches, also hides within it some breathtaking waterfalls that are sure to leave any nature enthusiast in awe. From the tranquil beauty of Duduma waterfall to the powerful flow of Barehipani waterfall, Odisha offers a delightful treat to those seeking a break from the hustle and bustle of city life.
Duduma Waterfall
Located in the Malkangiri district, Duduma waterfall is one of the most impressive waterfalls in Odisha. Created by the Machkund River, as it plunges down from a height of 157 meters, this waterfall offers a mesmerizing view. Surrounded by thick forests and lush greenery, Duduma waterfall is a perfect place for a picnic with family and friends.
Khandadhar Waterfall
Situated in Sundergarh district, Khandadhar waterfall is a majestic cascade that falls from a height of 244 meters. The stunning beauty of this waterfall is enhanced by the surrounding hills and dense forests. The sound of the gushing water and the mist created by the waterfall create a serene ambiance that soothes the mind and soul.
Barehipani Waterfall
Situated in the Simlipal National Park, Barehipani waterfall is the second-highest waterfall in India. This massive waterfall cascades down from a height of 399 meters, creating a breathtaking spectacle. Surrounded by dense forests and inhabited by a rich variety of flora and fauna, a visit to Barehipani waterfall is a treat for nature lovers and adventure enthusiasts alike.
Harishankar Waterfall
Located in Balangir district, Harishankar waterfall is a popular pilgrimage spot, known for its religious significance. The waterfall is situated amidst the hills of Gandhamardan, and according to legends, it is believed that Lord Shiva meditated here. Apart from its spiritual significance, Harishankar waterfall also offers a picturesque view, surrounded by lush green forests and serene surroundings.
Badaghagra Waterfall
Located near the town of Keonjhar, Badaghagra waterfall is another gem of nature hidden in Odisha. The waterfall cascades down from a height of 60 meters, creating a breathtaking sight. The surrounding lush greenery and the cool breeze make it a perfect spot for a day outing. Adventure enthusiasts can also indulge in trekking and rock climbing around the waterfall.
Apart from these mentioned waterfalls, Odisha also boasts other beautiful cascades like Sanaghagara waterfall in Keonjhar, Pradhanpat waterfall in Deogarh, and Handibandh waterfall in Kalahandi. These waterfalls showcase the immense natural beauty that Odisha holds, adding to the charm of the state.
Visiting these waterfalls not only offers a chance to witness the raw beauty of nature but also provides an opportunity to connect with oneself and rejuvenate. Whether you are a nature lover, adventure enthusiast, or a spiritual seeker, the waterfalls in Odisha are sure to leave you spellbound and longing for more. So, make sure to include a visit to these mesmerizing waterfalls in your itinerary when exploring the incredible state of Odisha.
You can read our another post on A Lotus Blossomed in a Compost Pit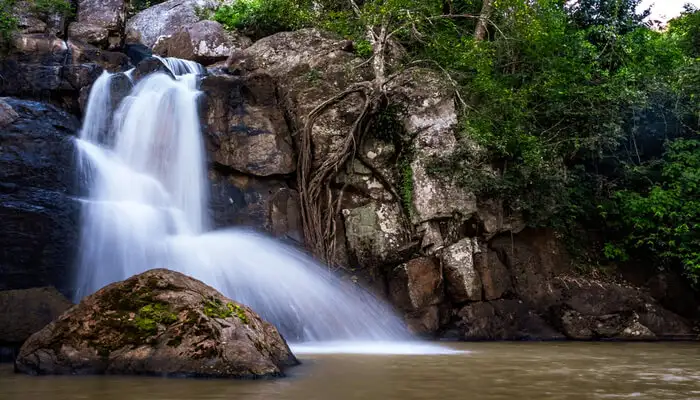 Write A FAQ For Waterfalls in Odisha
How many waterfalls are there in Odisha?
There are several waterfalls in Odisha, but some of the most popular ones include Duduma Waterfall, Barehipani Waterfall, Sanaghagara Waterfall, and Khandadhar Waterfall.
Where are the most famous waterfalls in Odisha located?
Duduma Waterfall is located on the Machkund River in the Koraput district, while Barehipani Waterfall is situated in the Simlipal National Park in the Mayurbhanj district. Sanaghagara Waterfall is located in the Keonjhar district, and Khandadhar Waterfall is in the Sundargarh district.
Can I swim in the waterfalls in Odisha?
Swimming is generally not recommended in the waterfalls in Odisha, as the currents can be strong and unpredictable. Additionally, there may be hidden rocks or other hazards. It is always best to enjoy the beauty of the waterfalls from a safe distance.
Are there any nearby attractions to visit along with the waterfalls in Odisha?
Yes, many of the waterfalls in Odisha are located in or near popular tourist destinations. For example, Duduma Waterfall is close to the famous Jeypore town, while Barehipani Waterfall is situated within the Simlipal National Park, which is known for its rich biodiversity. Visitors can explore these attractions along with the waterfalls to make the most of their trip.
When is the best time to visit the waterfalls in Odisha?
The waterfalls in Odisha are most impressive during the monsoon season, from June to September, when the rivers are in full flow. However, it is advisable to check the weather conditions before planning a trip, as heavy rainfall can lead to road closures or unsafe conditions near the waterfalls.