Welcome to the enchanting land of Sri Krishna and Lord Jagannath! Nestled in the eastern part of India, the holy sites associated with these two divine beings are not only deeply rooted in religious significance but also offer a unique cultural experience. Join me as we embark on a spiritual journey through the sacred destinations of Mathura and Vrindavan, and then head eastwards to Puri, the abode of Lord Jagannath.
Our first stop takes us to the birthplace of Sri Krishna, Mathura. Known as Brajbhoomi, Mathura is believed to be the land where Lord Krishna spent his childhood. As we explore the city, we are transported back to his mythical times. The Krishna Janmabhoomi Temple stands as a testament to his birth. Devotees from all over the world gather here to seek blessings and connect with the divine.
Moving on to Vrindavan, a place synonymous with love and devotion, we discover numerous temples dedicated to Sri Krishna and his eternal love, Radha. The Banke Bihari Temple is a major highlight, known for its bewitching idols and the mesmerizing Raas Leela (dance) performed by the devotees. The atmosphere is filled with fervor and devotion, making it a truly uplifting experience.
As we continue our voyage, we arrive at the sacred city of Puri in the eastern state of Odisha. Puri is famous for the Jagannath Temple, which is considered one of the four holiest pilgrimage sites in India. The temple is an architectural marvel, showcasing exquisite carvings and sculptures. It has an aura of divinity that instantly captivates your soul.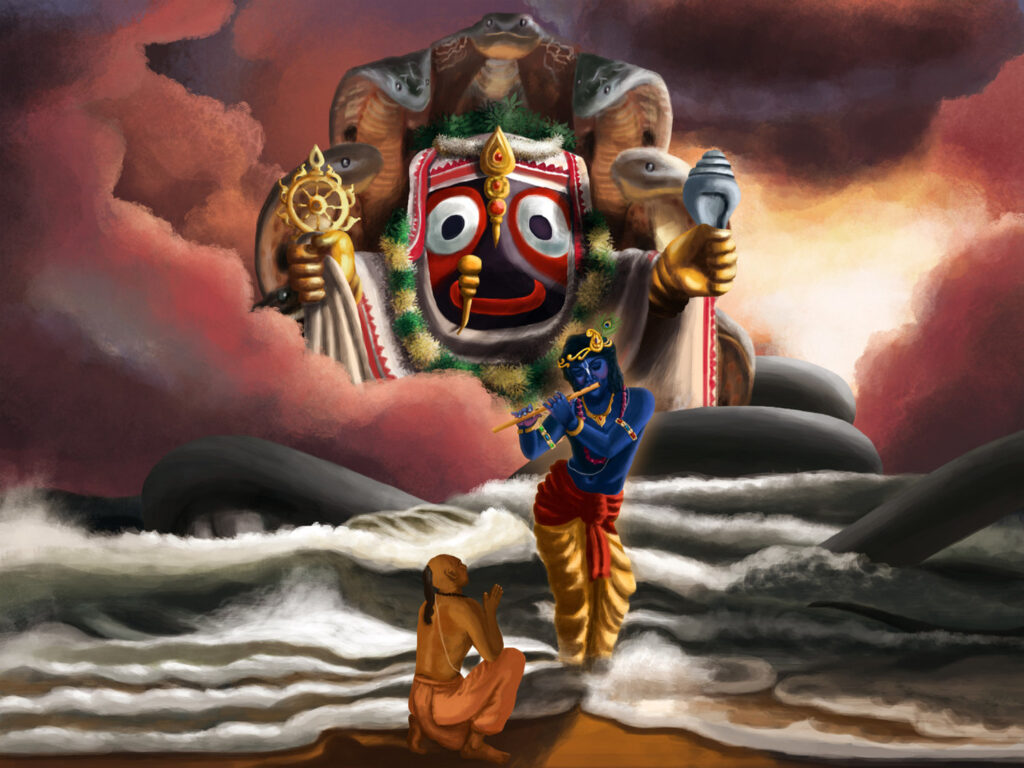 You can read our another post on Music of Odisha
Perched on the shores of the Bay of Bengal, the temple is not only a spiritual center but also hosts the grand Rath Yatra (Chariot Festival). This annual event witnesses millions of devotees and tourists from around the world. The deities of Lord Jagannath, his brother Balabhadra, and sister Subhadra are taken on lavishly decorated chariots through the streets, providing devotees with a unique opportunity to seek their blessings.
Besides the temple, Puri offers tranquil beaches, where one can unwind and soak in the beauty of nature. The marine drive known as "Swargadwar" is a popular spot where visitors can bask in the serenity of the sea and enjoy breathtaking sunrises and sunsets.
Delicious local cuisine is an integral part of any travel experience, and Puri does not disappoint. Don't miss out on savoring the mouthwatering prasad (religious offering) of the Jagannath Temple, as well as the delectable Odia delicacies available throughout the city.
A visit to these holy sites is not just a religious journey but a spiritual awakening. The sense of peace and purity that prevails is transformative, leaving an indelible impression on one's soul. Sri Krishna and Lord Jagannath hold a special place in the hearts of millions, and their devotees continue to flock to these destinations in search of solace and enlightenment.
So, pack your bags and get ready to embark on a blissful voyage to the realm of Sri Krishna and Lord Jagannath. Immerse yourself in their divine presence and let their grace guide you on a path of righteousness and eternal love.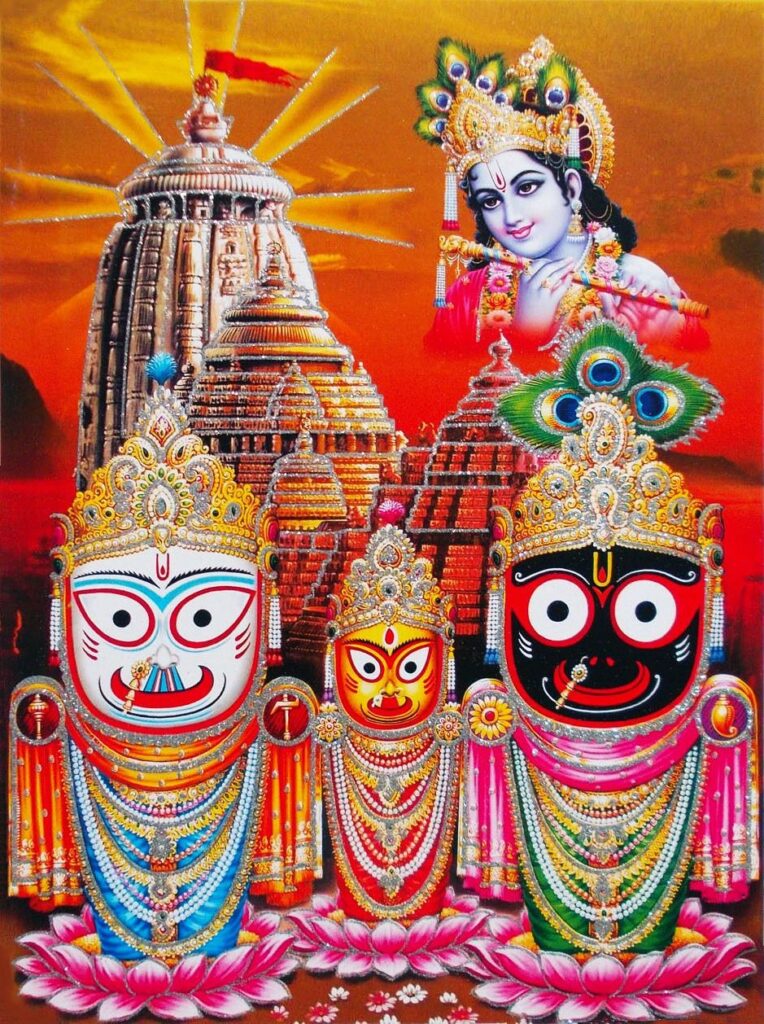 Write A FAQ For Sri Krishna and Lord Jagannath
Who is Sri Krishna and Lord Jagannath?
Sri Krishna is a widely worshipped Hindu deity who is considered the eighth avatar (incarnation) of Lord Vishnu. He is revered as the Supreme God by many devotees due to his divine qualities and role in the Hindu epic, the Mahabharata. Lord Jagannath, on the other hand, is a form of Krishna worshipped primarily in the coastal state of Odisha, India. He is considered the Lord of the Universe and the presiding deity of the famous Jagannath Temple in Puri.
What is the significance of Sri Krishna and Lord Jagannath?
Sri Krishna holds immense significance in Hinduism for his teachings on righteousness, duty, and devotion. He is known for his divine playfulness and loving interactions with his devotees. Lord Jagannath, on the other hand, is believed to be an embodiment of Sri Krishna and holds great cultural importance in Odisha. The Rath Yatra, a grand chariot festival, is celebrated annually in Puri, where millions of devotees gather to witness the deities being carried through the streets in massive chariots.
What are the main stories associated with Sri Krishna and Lord Jagannath?
Sri Krishna is well-known for his role in the Mahabharata, where he acts as a guide and advisor to the Pandava prince, Arjuna, in the epic battle of Kurukshetra. His divine teachings, known as the Bhagavad Gita, offer profound insights into spirituality and life's purpose. Lord Jagannath is primarily associated with the legend of Lord Krishna's sister, Subhadra, and his elder brother, Lord Balabhadra. The Jagannath Temple enshrines their idols along with that of Lord Jagannath.
How do devotees worship Sri Krishna and Lord Jagannath?
Devotees worship Sri Krishna through various rituals, including offering prayers, reciting his holy names (mantras), fasting, and participating in devotional activities such as kirtan (singing of hymns) and bhajan (devotional songs). Lord Jagannath is worshipped in the Jagannath Temple according to specific rituals, which include the offering of food (prasad) and performing the aarti (a ceremonial worship with lamps). The Rath Yatra is another significant way of expressing devotion to Lord Jagannath.
Are Sri Krishna and Lord Jagannath considered different deities?
Sri Krishna and Lord Jagannath are considered different forms of the same Supreme God by many devotees. Sri Krishna is seen as the original form, while Lord Jagannath is a localized form worshipped in the region of Odisha. However, both deities are believed to possess the same divine qualities, and their worship is centered around seeking their blessings for spiritual progress and liberation.