In the vast Indian history, there was only one warrior queen, who never got defeated. You will be surprised to know that she was from Odisha. Yes like the first martyr, the first revolt of India and many more stories, Odisha has also given us the first and the last undefeated warrior queen. The story of Rani Sukadei of Banki is amazing. But not many of us heard about it. So we are here to take you to a journey of courage, bravery and humanity of a Queen who wrote her name by her sword in Indian history.
Rajkumari of Badamba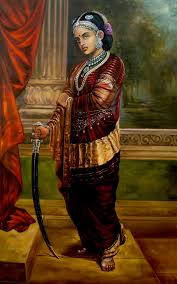 In 1686 A.D, a girl was born in the castle of Badamba. King Maharaj Balabhadra Bira Bara Mangraj and his queen Maharani Jayanta Debi named there child " Sukadei ". Rajkumari Sukadei was very playful and curious from childhood. She was very beautiful and courageous. Due to her interest in warfare the king trained and made her master in sword fighting and other warfare skills.
Rani Sukadei of Banki
King of Banki, Maharaj Dhanajay Trilokyanath Harichandan Deb married to Rajkumari Sukadei. Their marriage strengthened the bond between the two princely states, Banki and Badamba. Rajkumari was now Rani Sukadei of Banki and she took the responsibility of the kingdom.
Entry of the Villain
Once the king and the queen of Banki, visited the Jagannath temple at Puri. At that time Puri comes under the kingdom of Khurda king. Khurda kingdom was very strong in comparison to Banki kingdom. On their way back to banki, the king of Khurda, Gajapati Gopinath Deva, invited them. When Raja Dhanajay and Rani Sukadei of Banki visited to meet king of Khurda. The Gajapati got attracted towards the beauty of Rani Sukadei. As soon as the king and Queen departed for Banki from Khurda, the Gajapati planned an attack on Banki in order to get her.
Widow & Revenge
In order to attack on Banki, King of Khurda demanded king of Banki to give their kingdom. Raja Dhanajay refused to accede his kingdom to Khurda on Gajapati's demand, thus decided to fight a war with the Gajapati.
In the battle of Ragadigrama, the combined armies of Badamba and Banki fought with the army of Khurda. The Gajapati's army still outnumbered the combined armies of the defendants. Khurda had hundreds of horseman's with swords, war elephant's and thousands of archers and soldiers. As a result, Gajapati's army devastated the armies of Banki and Badamba. That was a blood war which was looking one sided. Banki and badamba suffered huge loses. Raja Dhanajay fought furiously but the sword of Gajapati was hungry for his blood.
Gajapati killed Raja Dhanajay and Rani Sukadei become a widow. It strike her like a arrow and broke her. But the queen have a blood of a warrior which convert her tears into strength.
Undefeated Warrior
After king was killed. Banki commanders and warriors accepted the defeat. But Rani Sukadei make the commanders and soldiers stand again. She declared that the war is not over and she shall herself lead the army to the battle ground.
With the help of his brother, king of Badamba, queen and his 700 troops reached Ragadigrama in the afternoon. War started. But this time the fire of queen revenge burned Gajapati's soldiers. Rani was an expert in sword fighting and she takes the full advantage of it. She applied her warfare strategies. She know that in order to win that war, she had to captured the King and she all her effort to do that. Rani Sukadei killed every soldier who ever try to come in his path. She fought like a killing machine. as a result soon the sword of Rani Sukadei reached its destination. She challenged the Gajapati for a fight. Gajapati undermining her abilities stepped down from his horse to fight with her accepting her challenge. The valiant queen defeated the Gajapati and captured her, thus ending the war.
Epitome of Justice
All eyes were fixed on Rani Sukadei's judgement. When everyone expected her to kill the Gajapati as to seek revenge for her husband's death. Rani Sukadei surprised everyone when she came forward and forgave the Gajapati. She said " being a widow I know the sufferings attached to the life of a widow, I would not let any other woman go through the same and thus I let him free ". She also forgave him as she did not wanted to initiate a series of war between Banki and Khurda that would continue for generations, only to seek vengeance.
Conclusion
Rani Sukadei of Banki takes care of her kingdom for many years. She died in 1726 A.D. The bravery and justice of Rani Sukadei makes her name written in golden words in the history. She was the only women who got the title of Undefeated Warrior Queen in Indian history. Though many of us didn't know about her but there are some people who respect the real legends. Students of Silpanchala Mahila Mahavidyalaya, a women's college in Talcher in Angul district of Odisha, have formed a Rani Sukadei regiment. Every day they learn and practice martial arts keep themselves fit through physical exercise.
So hope you all like the story and learn about a courageous and kind warrior who gave us the perfect example of an Indian women. Salute to all women. See you in the next journey.
Sources
Rani Sukadei of Banki from wikipedia
Odisha Royals
Rani Sukadei regiment