Nothing encapsulates a wandering soul more than the sand craft of Puri. The appearance of sand arts on the Puri beach dates back to the 14th century, but as time progressed the artwork got better and finer. As foreign travellers routinely made travels to Odisha, this great work of art got a high distinction and promotion
What Folklore Says
In the fourteenth century Odisha, there was a writer known as Balaram Das who authored the book Dandi Ramayan. An extraordinary devotee of the Lord Jagannath, it was Das's desire to move on board the rath(chariot) of Lord Jagannath during the yearly Rath yatra. He was denied consent and offended by the sevayats which left him highly embarrassed. In his annoyance and dissatisfaction, he went to beach and began carving images of Lord Jagannath, Devi Subhadra and Lord Balabhadra on the sand and began his prayers. So intense was his dedication, that all the three divine beings left their chariots from the yatra and showed up before him.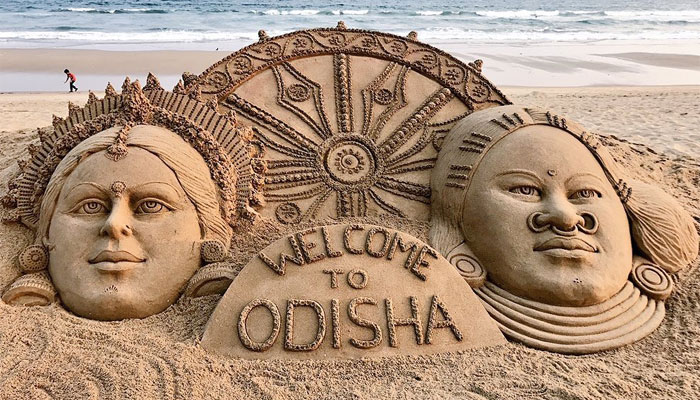 Even though there are no solid evidences to support this folklore, the tale has become associated with the origin of sand art.
Sudarshan Pattnaik: Waving the Way Forward
Sand art as a type of workmanship in Odisha came to be perceived because of an enthusiastic specialist known as Sudarshan Patnaik. Beginning in 1995 by his committed endeavours, he could internationalize this fine art of Puri. His works are additionally fascinating and depict the tales of current world issues, celebrations, world harmony, sports and so on.
At present he additionally runs a Sand Art Institute on the Puri sea shore. He has enchantment fingers, with boundless possibilities and with massive warmth to make something new on sand. He had consistently a fantasy that he would win a prize in a universal level. For his excellent ability he ventures numerous nations like London, France, Scotland, China, Holland, Singapore, Denmark and Italy. He is additionally valued by numerous individuals for his alluring sand design. Presently he turned into a universal craftsman. In the World Master's Sand Sculpture Championship held at Italy in July 2001 he got third prize as the first Indian.
You can read our another post on The Leaning Temple of Huma: A Unique Architectural Wonder
What Goes Behind the Screen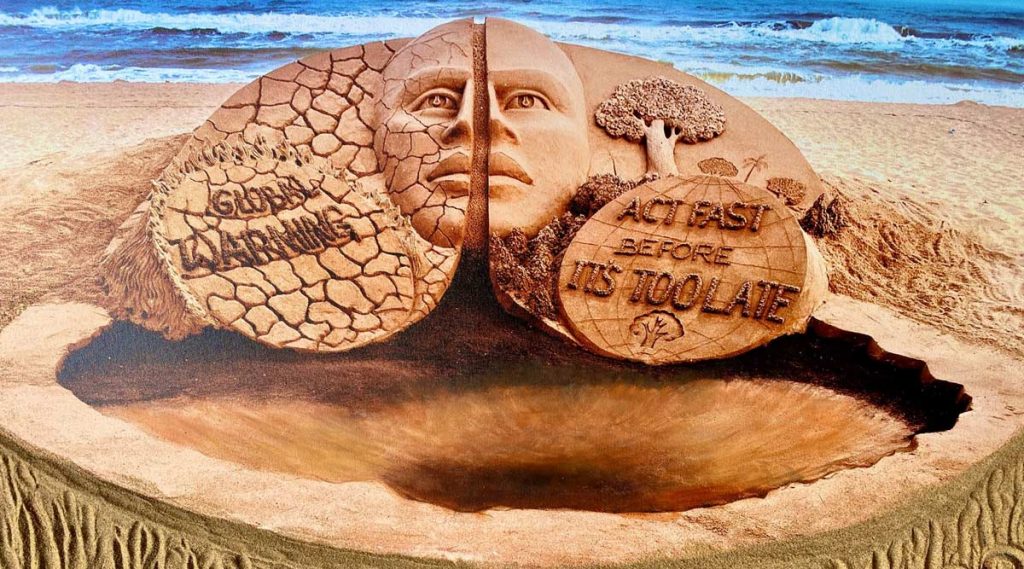 Presently, understudies are acquainted with the stone carvings. So stone molding is treated as the initial step of sand molding. The carving on sand is simpler and faster than carving on an unbending stone. So, it is a simple procedure of learning the specialty of carving on sand. So, in a brief timeframe, a student gets an obvious thought regarding the carving. In spite of the fact that these sand models are effectively attractive and transferable, it is likewise damaged without any problem. That is the reason the specialists do not proceed with this sort of workmanship for a more extended period.
International Sand Art Festival
Sand Art Festival is organised in Odisha during 1st December to 5th December. The festival is supported and funded by the Odisha Tourism department. Sand craftsmen from India and from various nations come and take an interest in this competition. A prize of Rs 100,000 cash is given as prize to the best sand artist. Generally, artists from Mexico, Spain, Singapore, France, Norway, Germany, and Netherland and USA take part in the festival. Sudarshan Pattnaik, the Famous Odia sand artist is the brand minister of the International Sand Art Festival sorted out in Odisha.