Metal Craft of Odisha, also known as Odisha, is a beautiful state located on the eastern coast of India. This culturally rich state is renowned for its vibrant traditions, magnificent temples, and exquisite craftsmanship. Among the various forms of art and craft that flourish in Odisha, one particular craft that holds a special place is metal craft.
Metal craft in Odisha has deep historical roots and has been practiced for centuries. The skill and artistry of the craftsmen in this field are truly remarkable. They specialize in creating intricate designs and patterns on various metals, including brass, bronze, and silver.
The process of metal craft in Odisha involves several stages, each requiring great attention to detail and precision. First, the metal is heated until it becomes malleable. Then, the craftsman skillfully creates the desired shape using a combination of hammering, casting, and engraving techniques. The next step involves embellishing the metal piece with delicate motifs inspired by nature, mythology, and religious symbols.
One of the most famous metal crafts in Odisha is the Dhokra art form. Dhokra is a traditional method of metal casting that dates back to the Indus Valley Civilization. This ancient technique involves using a wax model that is surrounded by clay and then baked in a furnace. The heat of the furnace melts the wax, leaving an empty space that is filled with molten metal. Once cooled, the clay mold is broken, and a unique and intricate metal sculpture is revealed.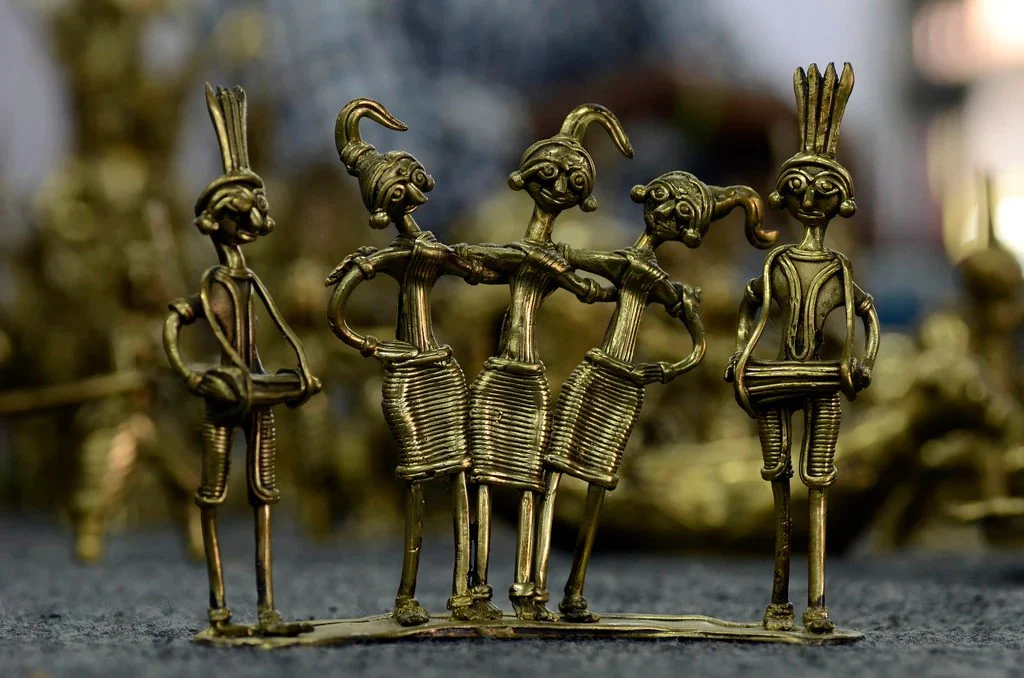 The subjects of metal craft in Odisha are diverse, ranging from tribal figurines to religious deities. The craftsmen create finely detailed sculptures of gods and goddesses, such as Lord Jagannath, Lord Ganesha, and Goddess Saraswati. These sculptures are not only aesthetically pleasing but also hold significant religious and cultural value.
Apart from sculptures, metal craft in Odisha also encompasses other decorative items such as bowls, utensils, jewelry, and lamps. These items are adorned with exquisite patterns and designs, making them perfect for adding a touch of elegance to any space.
What makes the metal craft of Odisha truly exceptional is the dedication and skill of the craftsmen. They have inherited their craft from their ancestors and have honed their skills over generations. The immense patience and attention to detail they exhibit in their work are truly commendable.
In recent times, the metal craft of Odisha has gained recognition and popularity not only within India but also internationally. It has become a significant part of the cultural heritage of the state, attracting tourists and art enthusiasts from around the world. The artisans, with their immense talent and creativity, have managed to keep this ancient craft alive and thriving in the modern world.
To ensure the sustainability of this precious art form, it is crucial to support the craftsmen and promote their work. By appreciating and purchasing their creations, we can help preserve this unique metal craft of Odisha for future generations to admire and cherish.
In conclusion, the metal craft of Odisha is a testament to the skill and creativity of the craftsmen of this beautiful state. The intricate designs and patterns, along with the religious and cultural significance, make this craft form truly unique. So, the next time you come across a piece of metal craft from Odisha, take a moment to appreciate the artistry and the rich cultural heritage behind it.
You can read our another post on Dance of Odisha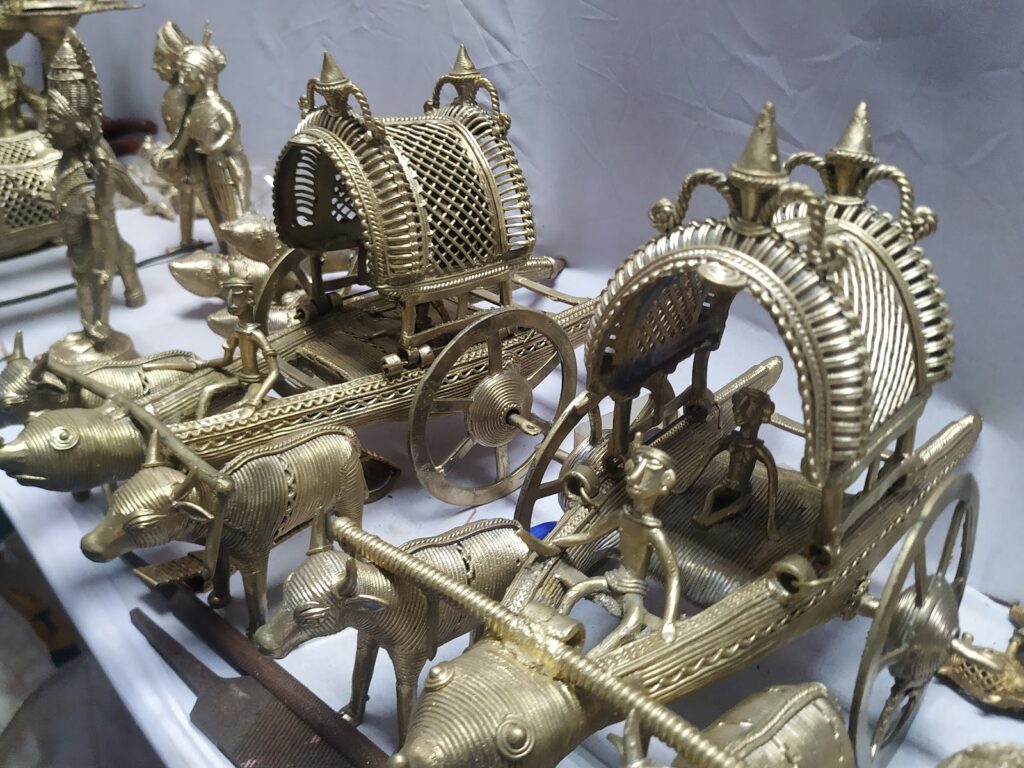 Write A FAQ For Metal Craft of Odisha
What is metal craft of Odisha ?
Metal craft of Odisha refers to the traditional art form of sculpting and crafting intricate designs using metals like brass, bronze, and iron. It is a centuries-old tradition that showcases the skilled craftsmanship of the artisans of the region.
What are some popular metal craft products from Odisha?
Some popular metal craft products from Odisha include statues and sculptures of deities like Lord Jagannath, Lord Krishna, and Goddess Durga. Other products include metal lamps, utensils, and decorative items like wall hangings and figurines.
What techniques are used in metal craft of Odisha ?
The metal craft of Odisha involves various techniques like casting, hammering, and carving. Artisans first create a clay model, which is then used to make a mold. Molten metal is poured into the mold and once cooled, the intricate designs are further enhanced through hammering and carving.
What makes the metal craft of Odisha unique?
The metal craft of Odisha is known for its intricate designs, attention to detail, and the perfect blend of traditional and contemporary art forms. The use of brass and bronze gives the sculptures a distinct golden hue, adding to their beauty. The artisans also incorporate religious and mythological motifs, which add a cultural significance to the art form.
Where can one purchase metal craft products from Odisha?
Metal craft products from Odisha can be purchased from various sources like art and craft galleries, specialized handicraft stores, and online platforms. These products are often exported to different parts of the world, making it accessible to a wider audience. Additionally, visiting craft fairs and exhibitions in Odisha provides an opportunity to directly interact with artisans and purchase their creations.