We have all seen the news that the Hirakud Dam was opening its sluice gates to let off water before it was overwhelmed. Many commentators on news sites expressed dismay on the decision, however necessary it might have been. This could have been worse. In fact, about a century ago it was worse.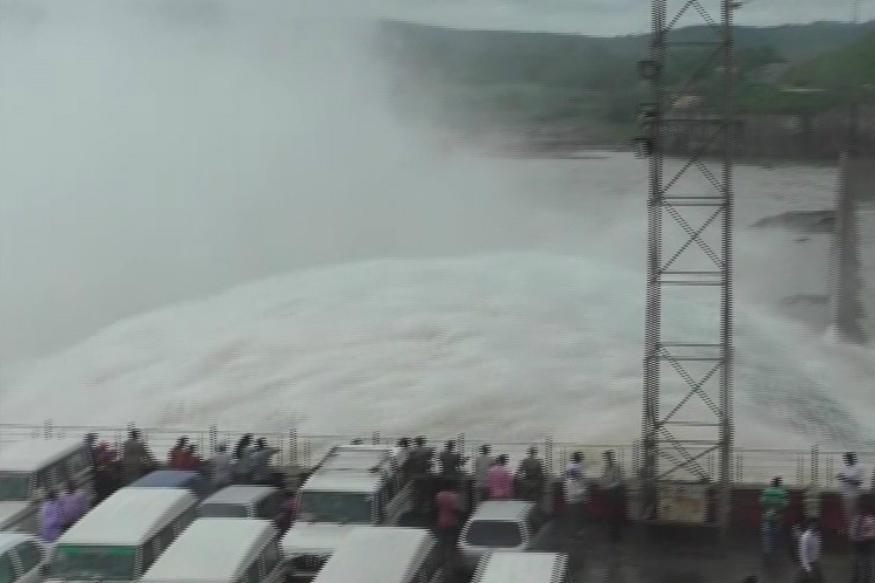 The Mahanadi is a monsoon fed river and surges out during rainy season. Due to its nature, it used to shrink up considerably in the drier months. So the river delta was constantly plagued by both floods and droughts. This had been the case for centuries and people did not have any means of controlling the river. It was renowned engineer M. Visvesaraya who first proposed the survey of the Mahanadi river basin to tackle the yearly floods. Shortly after that floods devastated large parts of the state in 1937. It was just last year that the state of Orissa was established by the British government.
It took till 1945 under Dr. B. R. Ambedakar's leadership as Minister of Labour, a concrete decision was made to invest in regulating the waters of the Mahanadi for multiple benefits. On 15th March, 1946, the foundation stone was laid on the project by Sir Hawthorne Lewis, the Governor of Orissa. The first batch of concrete was laid by Pandit Jawaharlal Nehru in 1948.
The Majumdar Committee estimated in 1952 that the dam would cost ₹92.80 crore and the main parts would be completed by June 1955. The projected area irrigated would be 13.74 lakh acre (5.45 lakh ha) and 48GW of electric power generation capability would be available by 1954-55. However the dam was completed in 1953 and inaugurated by Prime Minister Nehru in 1957. The dam had cost a little more than ₹100 crore and 596 square km of land was now perpetually underwater.
Irrigation and power generation started in 1956 and reached full potential in 1966. The Hirakud Dam was now the world's largest dam (total length of 25.79 km) with a water catchment area of about 83,400 square km and a power generation capacity of 347.5 MW. Mahanadi was now tame, with floods and droughts now under control with an irrigated area covering over 2.3 lakh hectares.
The Human Cost
However as many have known, any such large scale project has a human cost. Nearly 22000 families were displaced and many villages were submerged in the reservoir. Initially ₹12 crore (equivalent to ₹1000 crore in 2018) was allocated to compensate the displaced people. Later, the figure was revised to ₹9.5 crore (₹810 crore in 2018). However only ₹3.32 crore ( ₹280 crore in 2018) was finally disbursed. Many families were evacuated without compensation after 1956.
A lot of historical buildings, specially temples were also submerged during the construction of the dam. More than 200 temples went underwater when the dam went up and most have not survived. During summer months about 50 temples can be seen in the lowered waters of the reservoir. The discovery of two temple stones of Padmaseni temple of the submerged village of Padmapur has now rekindled interest in these underwater wonders and scuba diving has become a popular sport.
Conclusion
Whatever may seem to be situation today, Hirakud dam was a historic undertaking and a monument to the titanic effort taken to build such a behemoth. We hope that our people keep advancing, however daunting the circumstances. There will be pitfalls and setbacks, but the important thing is to keep looking forward.
Thank you and visit again.