A visit to Puri, a coastal town in Odisha, is incomplete without relishing the mouth-watering 'Mahaprasada of Lord Jagannath'. The vast kitchen of Puri Jagannath temple offers an array of sweet dishes, appetisers and main course as offering to Lord Jagannath and his siblings out of which "Khaja" or Puri Khaja is a divine speciality loved by all. Mythical folklore underlines the fact that Khaja is Lord Jagannath's favourite offering out of all. 
To the quintessential Odia, Khaja is representative of the divine. A visit to Lord Jagannath in Puri is not considered complete without having a bite of the dry flaky sweet, on offer at Ananda Bazaar on the temple premises or buying a wicker basketful from the shops lining the Bada Danda to carry home and share with relatives, neighbours and other faithful devotees of Lord Jagannath.
An integral part of the 'Mahaprasada' of the holy Trinity, Jagannath, Balabhadra & Subhadra, the "Puri Khaja", also known as Feni, is emblematic of Jagannath culture.
Mahaprasada consolidates human bond, sanctifies sacraments and grooms the departing soul for its journey upwards.
The hand of every Odia involuntarily rises to touch the head in reverence at the first bite of a khaja, even if it is bought from outside and has not been offered as Prasad to Jagannath.
Origins
The savoury sweet crackling offering, though, doesn't have its origin in the state. It is an import that has been conformed to the culture and given a position of upraised spiritualism.
It is believed that the layered sweet originated during the Maurya dynasty in Silao, a nondescript village sandwiched between Mithila and Nalanda in Bihar.
There are mentions of this wheat-based treat, both in Rigveda and Arthashastra, especially the latter where Chankaya called it the food for "power sustenance'.
So, how did the Odia favourite 'Mahaprasad' or 'Mahabhog' really come to life?
In all sense, the replication that became the muse for the Odia version came from Silao. The Silao Khaja was dry, sweet and had distinct layers & most importantly, could travel well.
And travel it did from Nalanda to become a popular treat for scholars and monks and eventually make its place in the temple courtyards of Kalinga.
The variety was more like a phyllo pastry in texture and appearance ,extremely delicate, sugary sweet and crisp.
It was a version of a sweet cereal that could be crushed, added to milk and become instant food. This could explain why it turned to be Gautam Buddha's favourite and a treat that would be distributed by the monks while propagating his teaching.
Not monks or ascetics, the royalty too had a liking for Khaja. Manasollasa, the 13th-century cookbook, mentions the sophisticated treat Khajjaka that could be had both plain and sweet and was perfect as a royal gift.
While the royal cooks added aromatic spices like cardamom, the temple cooks gave it a more philosophical shape.
Chappan Bhog
The earliest style of making the Khaja is lost and by the time it was adopted as part of the 'Chhappan Bhog' in Jagannath Temple in the 12th century, the pastry had changed considerably.
Khaja's beautiful, rich, yet distinct cream brownish bearing came from the way it is fried over medium flame with patience, after which it is hand-rolled in a sugary liquid and allowed to rest to attain that crisp-sweet mouthfeel."
Odisha's unique ghee making process works beautifully as it comes with the right kind of fat content to create the air pockets. And, then the temperature. Another thing which adds to the khaja's distinct flavour and aroma is how long it rests and what it is resting on."
Traditionally most khaja makers used the sal patta (sal leaves) as the base for resting, where the sugar penetrates and crystallizes giving the pastry it's flakiness. The sal patta adds its aroma, giving it that "rich comforting" feel and the divine deliciousness that makes every Odia drool.
Admirably, it was these little additions made by Odia cooks that not only transformed a street treat into one of the most recognised 'Mahabhoga' of India, but also one of the finest examples of the country's edible history.
The proof of which is in its taste & which has remained as one of the foremost legacies of Odia culture.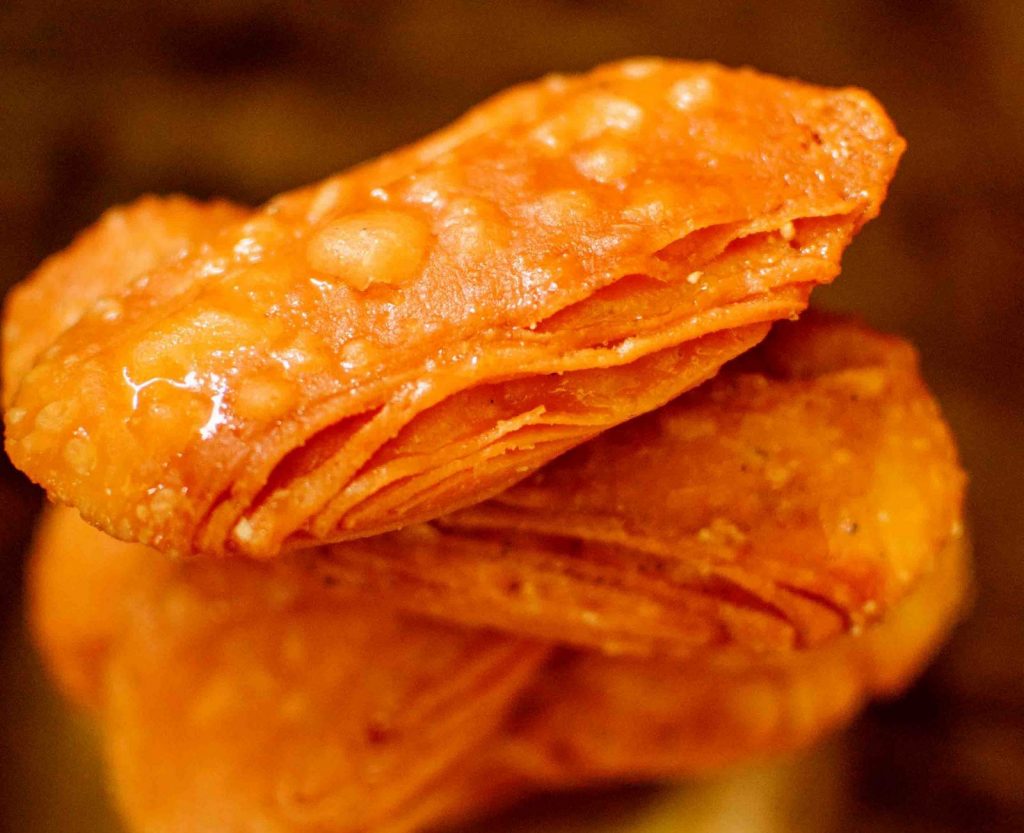 Puri Khaja in a Modern Age
The state government granted industry status to 'khaja" in December 2016′. The industries department has since then built an organized structure for the industry with around 200 units in Puri involving more than 1,000 people and a business above Rs 10 lakh a day.
The 'khaja' is sold for Rs 120 to Rs 250 a kg depending on its quality. It rarely happens that someone returns from Puri without buying 'khaja', if not for friends or relatives, then just as a divine token to carry back to their abodes.
In view of the growing demand for the delicacy, several entrepreneurs in the city have started online sales of 'khaja'. Since a lot of religious sentiments are associated with 'khaja' people are ordering the item from outside and also for its longevity.
Try the following Khaja recipe on any of the upcoming special occasions to hear praises from family members and guests. Since it is a good keeper, the Khajas can be stored in airtight containers for up to 2 weeks.
Read more: Bahubali of Puri: Anil Gochhikar
It is one of the "Chappan Bhoga" (56 types of food served as Prasad at Jagannath Temple, Puri) and can be stored to savor its festive taste during tea time or as a dessert option to end a festive meal.
Purir Khaja Recipe
To prepare Khaja recipe, in a bowl, add the flour, melted ghee and mix well. Add cold water to make a smooth yet firm dough. Cover the dough and keep aside for at least 15 to 20 minutes.
Make a paste mixing 2 tablespoons clarified butter (ghee) and 2 tablespoons all-purpose flour to make a flour paste.
Divide the dough into eight equal parts. Take a ball and roll it into a rectangular shape sheet. Roll another one similarly.
Smear the prepared flour paste on one sheet and place another on top of it. Spread the flour paste on top of the second sheet and roll both the sheets together tightly to resemble a log.
Cut this flour log into equal sized pieces of 1 inch each. Roll each piece vertically.
Heat enough oil in a deep fry pan, fry them in batches, on a medium flame until they turn golden brown on both sides. Cool them completely.
In the meantime, prepare sugar syrup adding 2 cups sugar in 1 cup water in a Saucepan.
Bring to a boil and cook till it becomes sticky.
Add cardamom powder, black pepper and cinnamon powders to it. This addition of spices is purely optional. Switch off flame.
Grease a large plate with some butter or ghee.
Dip the fried khaja into the syrup hence prepared, when the syrup is still warm. Immediately take the well-coated khajas onto the greased plate.
Serve Khaja at room temperature. You could also serve them when still warm. This Khaja recipe can be stored in an air-tight container up to 2 weeks at room temperature.
Khaja/ pheni are exquisite delicacies that one shouldn't miss trying, if on a trip to Odisha. And if by any chance you still haven't gotten a chance to visit Odisha, then scroll up and whip up your own batch of Khaja right at home!
Order odisha wooden handicrafts from OdishaShop today.