The Sunabeda Wildlife Sanctuary in Odisha's Nuapada district has a stunning mix of culture, archeological artifacts, wildlife, rock formations, waterfalls, and forest areas rich in rare and endangered flora and fauna species. The Sunabeda Sanctuary area lies under the Sunabeda Wildlife Division administrative jurisdiction with headquarters in Nuapada.
Nuapada, Komna, and Sunabeda are three ranges and the region is the catchment area of Indra, Jonk, and Son rivers. In addition to three main rivers, nine major streams, 12 waterfalls and two springs criss-cross the valleys.
The area's altitude ranges from 727 m to 1000 m (Chouradongar) and within the sanctuary there are 52 villages and 167 villages in the buffer zone.
A series of long hills covered in a large variety of flora define the forest ground.
Trees such as Asan, Dharua, Bija, Haldu, Mundi, Kusum, Sissoo, Harida, Bahada, Moi, Teak, Kendu, Sidha, Simul, Jamun, etc cover the higher grounds.
The central lands comprise trees such as Amla, Bandhan, Sunari, Khair, Karla, Kumbhi, Chara, Siris, Bheru
The base lands are made up of Bana Khajuri, Ranikathi, Kurei, Gangasiuli, Gindhi etc. along with climbers such as Siali, Latapalas, Muturi, Atundi, Gaj, Patchurimia, Satabari & grasses like Thatch grass, Sinkula, Bandhani, Broom Grass, Bena etc.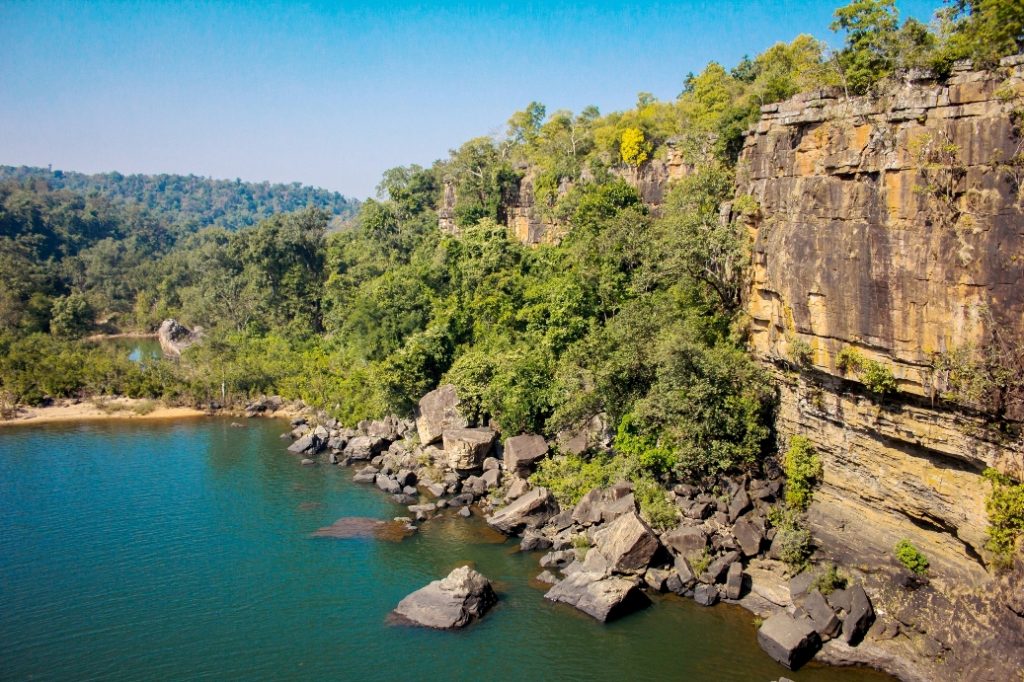 There are teak forests, in the midst of which animals are present significantly.
The wildlife population appears very encouraging. Royal Bengal Tiger, Leopard, Indian Bison, Hyena, Barking Deer, Chital, Sambar, Wild Pig, Ratel, Sloth Bear, Wild Dog, Nilgai, Porcupine, Four Horned Antelope, Hares, Jackals, Peafowl, Hill Mynas, Jungle Fowls, etc. are the main fauna found in this region. In addition to this, aviary fauna such as Northern pintail, Pintail Ruddy Shelduck, Lesser Whistling duck, Garganey and Osprey are frequent winter visitors along with a large number of other residential birds found in the area.
The movement of the extremely rare wild buffalo, Bubalus bubalis in the region, is one of the major interests. These wild bovines enter Orisssa from Chhattisgarh's Udanti and Sitanadi forests. Considering that this species is on the verge of extinction in Central India, it is crucial to preserve Sunabeda.
Sunabeda Wildlife Sanctuary has a remarkable habitat and exceptional biodiversity. With its natural environment, waterfalls, historical landmarks and architectural ruins, it has the potential for great tourist attraction due to the wilderness.
Another significant aspect of the sanctuary is the Chukutia Bhunjia tribals living there protect different forest patches in terms of their sacred sights on clan-based life that helps the tiger population and could be presumed as a very common effort to save the big cats.
Bird watching in Maraguda, animal spotting in the vicinity of Borra, Bankiam, Datunama, Goudhus and Jamgaon, presence of scenic landscapes in the form of waterfalls such as Goudhus, Beniadhus, presence of a reservoir and Rajiv Udyan in Patora are very calming. 
On a visit to the sanctuary the wilderness at Kholibhitar, Beniadhus, Patdarha, Maraguda-Beniadhus stretch and Rasna should not be missed.
How to reach
By Road : Sunabeda Wildlife Sanctuary is 30 KM away from District Headquarters, Nuapada.
By Rail : The nearest railway station is at Nuapada Road on Raipur-Vizianagaram line of East Coast railway.
By Air : Raipur airport is the nearest which is 150 km away and is connected with Delhi, Hyderabad, Kolkata, Mumbai,