Baladev Jew Temple (Tulasi Khetra), is situated in Ichhapur, Kendrapara, Odisha. This temple is called Tulasi Kshetra (Tulasi Abode), and is one of the popular locations for pilgrims after Sri Jagannath Dham, Puri. The Lord here is Sri Sri Baladevjew, Sri Sri Jagannath's elder brother. Sri Baladevjew, Sri Jagannath and Subhadra are worshiped together here.
The site is also called Gupta Kshetra, Tulasi Khetra, Gupta Brundabana , Sri Baladeba Khetra and Khetra Manibigraha.
There's an idol in the sacred seven steps which represents Tulsi as a seated goddess. Devi Tulasi is worshipped as the wife of Balabhadra. 
History
During the rule of the Marathas in Orissa (1761 AD) of Ichhapur (Kendrapara), the existing Shrine of Siddha Baladeva Jew was built. Built by the King of Kujanga, Raja Gopal Sandha and Zamindar of Chhedara Killah, Srinivas Narendra Mahapatra. The then Maratha Chief Janoji was convinced by the saint Gopi Das and Sairatak Giri who designed Jagamohan, the Bhoga Mandapa of the main shrine, Gundicha's temple and the stone wall. The first Mahanta Ramanuja Das constructed the Manika Debi and Jagannath Temple.
It is assumed that in 1661 the temple was demolished and a mosque was built on the temple remains by Khan-I-Duran, the subedar of Odisha during the Moghul emperor Aurangzeb. Lord Baladev Jew devotees took the deity in a boat by the Gobari River, kept the deity in secret in the vicinity of the Baranga (Chhedara) Jungle. Then, it was relocated to the village of Balarampur on the Sakhi Bata, near the river Luna. This was subsequently moved to what is today's temple of Ichapur.
Architecture
The temple is built over 2 acres (0.81 ha) of land. The total area consists of 2 sections. There are numerous temples in one section and a beautiful garden in the other. There is a 46 foot (14 m) tall wall around the temple
The main temple has a height of 75 feet (23 m) and a width of 10 feet. There is a 7-stage building in the main temple and large baulamalia stones have been used to build it. There is a lovely 45 ft high Temple of Mahalakshmi within the temple complex.
Throughout the area, other small temples are adorned by other gods and deities.
Many idols at the sanctum include the black pebble found in the Gandouk River, Sri Sudarshan, Sri Govind Jew, Sri Bala Gopal and Salagramas.
Many of the temple's side-deities are Kamadhenu, Navagraha, Sri Ganesh, Rabati, Kali, Yama, Maa Sarala, Nrusingha, Kartikeya, and Bakdevi.
All the temples have magnificent and traditional architecture.
There are four main parts of Baladev Jew Temple are
Bada Deula or Sri Mandir
Majhi Mandir or Bhog Mandap
Jagamohan or Natya Mandir
Bata Mandir or Mukhashala
Garuda Stambha, Ratna Bhandar, Snana Mandap, Mukti Mandap, Jhulan Gruha, all of the other important parts of the temple.
The flag of the principal temple is referred to as the "Brahma Chirala," or or "Brahma Bana", & the flag atop the 5 ft. high Nilachakra is referred to as the "Brahma Nilachakra."
Rituals Followed in Baladev Jew Temple
Being a total Baishnaba Khetra, the deities of Lord Baladev Jew, Lord Jagannath and Godess Subhadra wear different costumes and are decorated in different ways during various festivals without the involvement of any Tantrik rituals. The Rath Yatra is renowned here for the Brahma Taladhwaja Rath. This festival is known as Besha (Alankara).
Some Important Alankaras
Sri Raghunatha Besha on Chaitra Purnima Festival.
Padma Besha on Kartika Purnima Festival and Tulsi Vivah in Kartika.
Gamhabhisheka Besha – From Shraavana Sukla Dashami to Purnima,
Holy Sree Nakshatra ceremony of Lord Balarama Pushyabhisheka Besha on Pausa Purnima festival
Kanchi Kaveri Besha on Vasant Panchami festival.
Suna Besha (Bali Vamana Besha) on Bhadrapada Dwadashi Day \
Krishna Balarama Besha on Phalguna Purnima festival .
Festivals
Sri Baladev Jew is "MANI BIGRAHA." He is not made of wood. So no rituals of Nabakalebara are adhered to here.
Rath Yatra is celebrated as the main temple festival in two parts, Srigundicha and the BahudaJatra . During the car festival, the three deities with Sri Sudarshan go out on a chariot. The chariot is referred to as "Brahma TalaDhwaja Rath." It is about 65 ft & is said to be the world's largest chariot.
Offerings
The signature "Naibedya" of Sri Baladev Jew's is "RASABALI," a very well-known Odia sweet.
Different types of offerings  are made exclusively for deities, with well trained traditional families called 'Supakar' and 'Mekap,'. Many of the delicacies in various cultural systems are strongly patronized.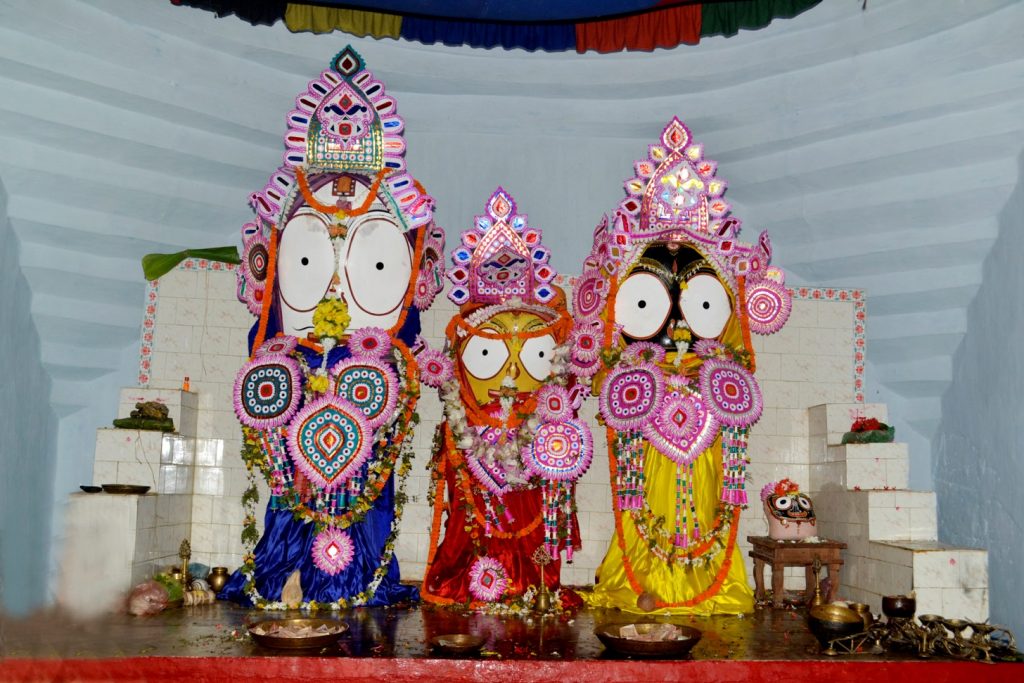 Some of the famous delicacies being Baula Gaintha, Pura Kakara,Mithei, Chaurashi Vyanjana (84 vegetable Curry), Ghia Anna, Makara Chaula, Phalamula (fruits), Ghanavarta, Upana Pitha, Bhaja, Dali, Chipa Kakara, Karanji, Khaja, Magaja Nishkudi, Mutha Gaja, Ladoo, Khuduma, Tala, Dalimba, Chhena Chakata, . Rasabali, & Putuli Pitha
The state of Odisha is replete with temples. A tour to this divine & peaceful temple in Ichhapur is definitely a must for all!
How to Reach
Airport Nearest:
Biju Patnaik Airport Bhubaneswar is the closest airport. Kendrapara is 85 km away. Airways link Bhubaneswar to most of the Indian metro cities.
Closest train station:
Cuttack is located 54 km from Kendrapara town & is the closest railway station.
Bus route:
Cuttack is 58 km away in Kendrapara. To get to Kendrapara, cross over Chandikhol Via Chhata towards Paradip via Cuttack(Jagatpur)-Salipur state highway or along National Road 5 and 5 A.
Along National Highway 5 and 5 A, Kendrapara is just a 2 hour drive from Bhubaneswar Airport.
The Temple of Sri Baladev is 5 Km from the center of town Kendrapara.
To get there, you could hail a taxi or Car.