Nature has blessed our mother earth with greenery and wildlife. The conservation of flora and fauna is necessary for survival of everyone. For the free movement of the animals and birds, a number of sanctuaries and national parks as well as reserves are there in our country. Similipal National Park of Odisha is one such destination. Filled with rich and exotic flora and fauna, it is the 7th largest national park in the country. The home to Bengal tiger, Asian elephant, gaur, and chausingha, it also surrounds some of the beautiful waterfalls like Joranda (217 m) and Barehipani (181 m) Falls.
Simili in Odia language is the name of a tree. The Red silk cotton trees grow in a large number in the area and hence is the name given.
As a national park and a tiger reserve of Odisha, Similipal is a unique name. Situated amidst dense forest in the Mayurbhanj district, it is one of the largest known Biosphere reserves of the nation. The park and the reserve covers an area of 2,750 square kilometer.
Similipal forms a part of the Mayurbhanj Elephant Reserve. It includes three protected areas: The Similipal Tiger Reserve, Hadagarh Wildlife Sanctuary and Kuldiha Wildlife Sanctuary.
This protected area has been part of the UNESCO World Network of Biosphere Reserves since 2009.
Simlipal National Park holds about 1076 species of mammals, 29 types of reptiles and 231 species of birds. The mean elevation level is 900 meters.
Tall sal trees are found in large numbers. Khairiburu (1178 meters), Meghasani (1158 meters) are some of the highest peaks. In the midst of the dense forests, the summer stands humbled. Several rivers like Budhabalanga, Khairi, salandi, Palpala, etc. originate from the hills and meander through the forest. Many of them have cascading rapids and foaming falls before leaving for the plains.
The grace of beauty of nature is widespread and sprinkled in every corner of the park. The thrilling beauty of nature which flows in the heart of Similipal astonishes the visitor.
History
Similipal is one the first nine designated tiger reserves that were established in 1973. Recently for the first time a rare Melanistic Tiger or Black Tiger was discovered in Similipal.
Simlipal originally was a hunting ground for royalty. It was formally designated a tiger reserve in 1956 and under Project Tiger in May 1973. "Mugger Crocodile Scheme was started in 1979 at Ramatirtha, Jashipur.
Simlipal was declared as a wildlife sanctuary in 1979. In 1980, it was extended from sanctuary to a national park.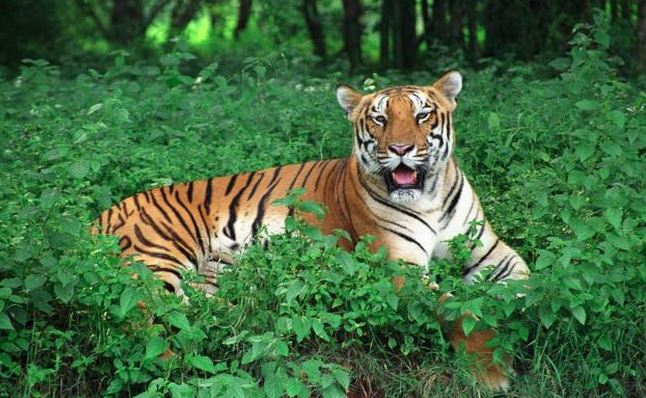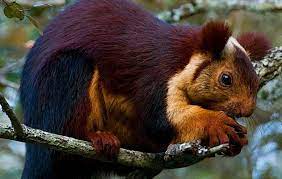 The Government of India declared Simlipal as a biosphere reserve in 1994. UNESCO added this national park to its list of Biosphere Reserves in May 2009.
There are 10,000 people living in 61 villages in the forest. That is why Simlipal is yet to be declared a full-fledged park, despite its having the status of one of the 18 biospheres of India.
Flora : Rich and Exotic
Rich and exotic with greenish lusture, the Similipal national park is a treasure house of 1076 species of plants belonging to 102 families. It also housed 96 species of orchids. It lies in the Eastern Highlands moist deciduous forests ecoregion, with tropical moist broadleaf forest and tropical moist deciduous forests with dry deciduous hill forest and high level Sal forests.
The grasslands and the savannas provide grazing grounds for the herbivores and hiding place to the carnivores. The forest boasts of innumerable medicinal and aromatic plants, which provide a source of earnings for the tribal people. Eucalyptus, planted by the British during the 1900s, are found.
Fauna : Wild But Alluring
Similipal is home to a total of 42 species of mammals, 242 species of birds and 30 species of reptiles.
Tiger, leopard, Asian elephant, sambar, barking deer, gaur, jungle cat, wild boar, chausingha (four horned antelope), giant squirrel and common langur are the animals that can be seen. Beautiful birds ranging as high as 231 species nest in these forests. Namely, Red junglefowl, hill mynah, peafowl, Alexandrine parakeet, crested serpent eagle are the commonly found birds. The grey hornbill, Indian pied hornbill, Malabar pied hornbill and Indian trogon are also found in the reserve.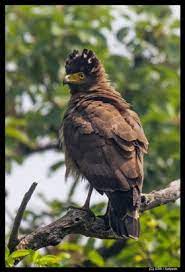 Reptiles are less but still they form a precise and mind absorbing number. The snakes and turtles can be mainly seen. The "Mugger Crocodile Management Programme" has helped the Mugger crocodile (Crocodylus palustris) to survive and flourish on the banks of Khairi river.
How To Reach
Travel By Air: To reach Similipal through air, you have to reach the nearest airport in Odisha, i.e. Bhubaneswar (270 km). Cabs, taxis and buses and trains are available from Bhubaneshwar to Mayurbhanj.
Travel By Rail: The nearest railway station is Balasore at a distance of 60 km from Baripada. Cabs and private vehicles can be afforded.
Travel By Road: Bus services and private vehicles lead straight to the destination.
Conclusion
Out of the 18 Biosphere reserves of India, Similipal is an extremely enjoyable place if one literally wants to enjoy nature. Tiger conservation makes it special. To enjoy the scenic view and greenery, one must spend more and more time here.
The true treasure of a state is its wildlife, flora and fauna. Similipal fulfills the requirement as it has dense forests, villages, waterfalls, all that mesmerizes the visitor.
It will be an extremely amazing experience to opt for the Jungle Safari & guided treks. It gives a chance of discovering the true beauty of the biosphere called Similipal Tiger Reserve. Apart from safari and treks, Birding is highly recommended for Similipal with its unique ecosystem supporting a huge variety of avian species.