Rani Sati Temple is referred to as India 's second Jhun-Jhun Dham and is located at Birmitrapur, approximately 35kms from Rourkela. Rani Sati Temple, built before 1967, stretched over an area of 2 acres of land, was subsequently renovated in the years 1992 and 2000.
The white marvellous temple structure is built with white marbles, beautifully adorned with paintings and sculptures and possessing a golden pot at its top, giving it a palace look. In addition to the daily rituals, special pujas are offered here on auspicious days such as Bada Amavasya. Payment based meals are distributed here every day.
The temple complex contains two beautiful flower gardens, and one of them is adorned with a captivating statue of Lord Shiva.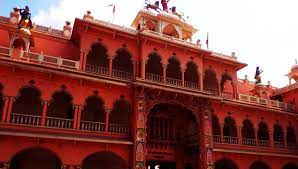 In addition to the Rani Sati temple, Sita Ram Temple, Ganesh Temple, Hanuman Temple, and Shiva Temple are situated on the vast premises.
The Story of the Temple
It is India's largest temple dedicated to Rani Sati, a Rajasthani lady who lived sometime between the 13th and 17th centuries, and committed Sati (self-immolation) on the death of her husband.
Various temples are devoted to her worship in Rajasthan and elsewhere around India, and commemorate her act. Rani Sati also was referred to as Narayani Devi & Dadiji (grandmother).
But, as temple beliefs the temple also has a Bengali connection, the Rani Sati temple in Jhunjhunu is administered by Kolkata's Marwari Temple Board, which is one of India 's richest temple trusts.
The Story of Rani Sati Dadi Maa or Rani Sati Dadiji
Rani Sati Dadi Maa's storey begins from the Mahabharata period. Narayani's wish to marry Abhimanyu and her urge to become Sati in her next life. In her next life as granted by Lord Krishna, she was born as Gursamal 's daughter in the village of Dokwa in Rajasthan. Narayani was named for her. Likewise, Abhimanyu was born in Hisar as Jayaram 's son, and named Tandhan. Tandhan and Narayani married and led a peaceful life. Abhimanyu was in possession of a beautiful horse that had been eyed for quite some time by the son of the king of Hisar.
Tandhan refused to pass his precious horse on to the son of the king. Then the son of the king decided to acquire the horse forcefully and thus challenged Tandhan for battle. But Tandhan bravely fought the battle and instead killed the King's son. Thus the enraged king killed Tandhan in battle in front of Narayani. Symbolic of female bravery and power, Narayani fought with the King and killed him. She then instructed Ranaji (the caretaker of the horse) to make the necessary arrangements to set her ablaze with her husband's cremation.
Ranaji, who played a key role in executing her desire to be Sati with her husband, is then blessed by Narayani, that his name will be tagged along with her name when worshipped, and she is known as Rani Sati since then.
Devotees believe that Rani Sati Dadiji demonstrated millions of miracles. And in times of crisis the deity Rani Sati Dadiji comes to rescue her devotee. Her followers / worshippers expand by the day.
With over 400 years of history, this temple is a proof of feminine strength of character and courage that certainly captures the attention of all Bhagats. It is also known for its splendour, and remarkable paintings. It is also part of one of the oldest pilgrimages of India.
How to Reach Rani Satiji Temple
By Air – The closest Airport is the Bhubaneswar airport. From there you can catch a train or bus to Rourkela.
By Train – The nearest station is the Rourkela station which is connected to most cities in the country.
By Bus – You can hail a bus from Rourkela to the temple.
The Rani Sati temple is open from 5 pm – 12 pm and 4 pm – 9 pm everyday.