The finger licking delicacies of Odisha brings you to the edge of the dining table with ease. Odias never compromise with their food, no matter what happens. Although it is a topic of taste and structure, in terms of health benefits also, dishes from Odisha will never disappoint you. The demand of traditional Odia food items is still high in today's modern world as well.
Out of several cuisines from Odisha, those could serve the plates well, Pitha (sweet cake) becomes one of the most authentic and tasteful dishes. A typical north Indian style food item, Pithas are mostly prepared at homes. Although both rice flour and wheat flour could be used for the purpose, Odia people choose rice over wheat for making most of the Pithas. Now-a -days, flavoured cakes have taken over pithas but the natural taste and health benefits of Pithas still make them unique.
What Makes Pithas of Odisha So Unique?
Among varieties of delicacies of Odisha, Pithas are unique, they are because of their distinct preparation styles and diverse tastes. Sometimes, these are sweet pancakes but at times, spicy and chilly flavoured pithas are also preferred.
Pithas are mostly prepared on special occasions like some prominent festivals. People often crave for different tastes and that crave gets fulfilled by pithas. 
The most unique thing about pithas is its recipe. Use of rice flour and grams makes it crispy and gives a finger licking taste. The grating also folds the taste. Preparing pitha is time consuming and it is not easy at all to prepare. Most of the people don't know how to cook pithas.
The ingredients used is also a factor for the uniqueness. Normally, coconut, cheese and jaggery or sugar forms the filling. The ingredients used for filling are not only tastier but also healthier.
Different Kinds Of Pithas
In Odisha, Pithas (Odia: ପିଠା) are special delicacies in an Odia home. On traditional festivals, sweet pithas form a part of the celebrations.Pithas are also routinely prepared and served in Odia homes on normal days. The pitha may be broadly put in the category cakes. Some Odia pithas include the following:
Arisa Pitha
The flavour of jaggery with deep fried rice flour blends the mouth with taste. Often made on festive occasions,Arisa Pitha can be stored for a number of days. The dark colour of the Pitha with its sweetening taste makes it different. People cook and distribute it at festivals. The making process is a little bit complex and mostly women could do this.
Manda Pitha
Even if the preparation of Manda Pitha is tedious and time taking, its taste eliminates all the strains. A kind of pitha made by steaming the rice flour with grated coconut and jaggery/sugar filling or fresh cheese filling.
Especially served on occasions, Ashtami and Raja are the prominent festivals when Manda Pitha is prepared.
Kakara pitha
Kakara brings water in mouth as one utters the name of the dish. A fried pancake type pita, made from wheat flour/semolina, often with a sweet coconut filling, stimulates hunger. The fillings inside kakara adds extra flavour and binds the mouth with sweetness.
Enduri Pitha
The traditions of Odisha is never ending and preparing food items on festivals is one of them. Raja, Prathama Ashtami and Samba Dasami are some of the festivals on which a very traditional Pitha is prepared in every household. Enduri pitha is made from rice flour and black gram, often with a jaggery and coconut or cheese filling, steamed in a turmeric leaf. The aroma of Enduri Pitha talks about itself from far off distance also.
Chakuli Pitha
A favourite dish of every Odia, a snack item that is usually preferred in most parts of the state, Chakuli is one of the most delicious Pithas ever. Resembling south Indian food item Dosa, Chakuli with its own flavour and authentic taste, is thin/thick pancake made from fermented rice and black gram. When it is made thinner it is called saru chakuli. Served with hot curry, Chakuli is awesome to taste.
Chitau Pitha
Very similar to Chakuli in appearance but with unique taste and flavour, Chitau Pitha is another type of pan cake that is prepared on some prominent festive days. It tastes sweet and crispy with grated coconut filled inside it.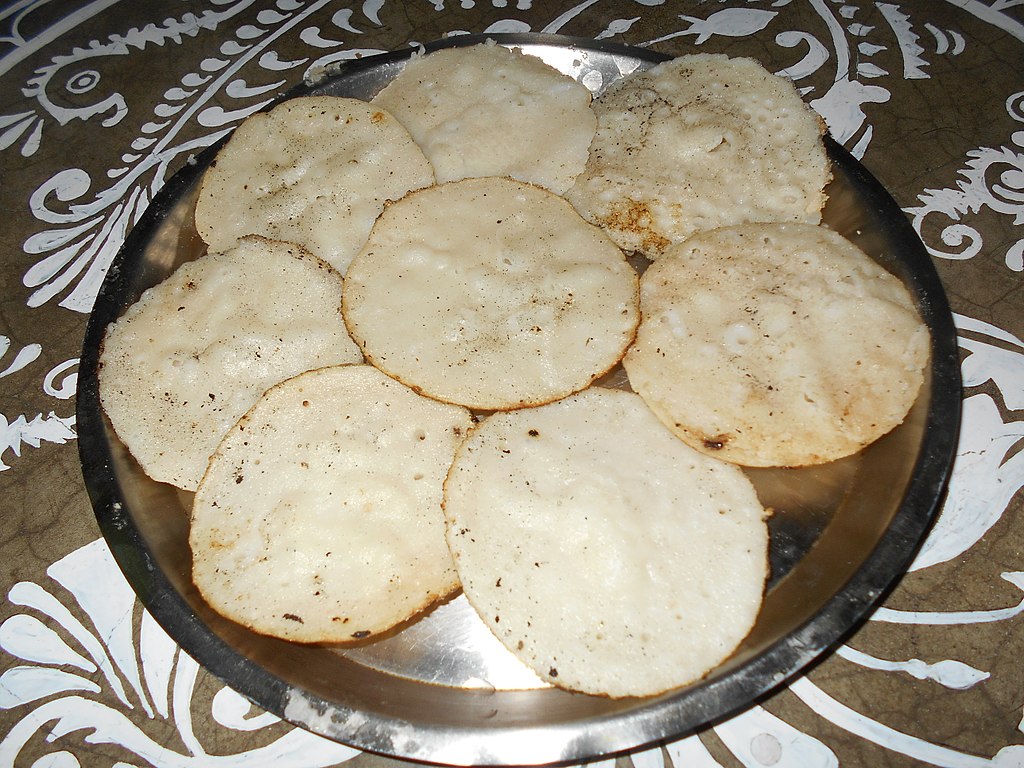 The occasion on which it is prepared is called Chitalagi Amabasya (or Chitau Amabasya).
Poḍa Piṭha
When it is burnt, the taste folds itself many times. This one is a slow-cooked pitha made from fermented rice and black gram, with chopped coconut. Its crust is slightly burnt, while the inside is soft and white. Kaju, Kismis and cherries give additional flavour. Raja is the only festival when Poda Pitha is made in households.
Tala Pitha
An absolutely delicious sweet dish made of palm fruit and rice batter, Tala Pitha has its own unique taste to serve. Once eaten, its taste calls for a second taste.
Conclusion
Making pitha ia a tradition in Odisha. It is more than just cooking, it is a bond, an emotion. Pithas cooked by mother's hand often