Odisha is renowned for its beautiful and gorgeous handloom textiles. Odisha sarees are well-known for their exquisite finish and delicate works. a number of the sarees of Odisha are carefully preserved and proudly cherished to carry forward the tradition in subsequent generations. In fact, handloom weaving in Odisha is one of the traditional and largest industries in India. It supports thousands of weavers and related craftsmen and artisans. Along with handlooms, Odisha also specializes in some techniques used for fabric surface ornamentation like Pipili Appliques and Patta Chitra.
Textile Industry Of Odisha
The textile heritage of Odisha reflects the actuality of artistic capabilities and superior craftsmanship of Odisha. Drawing heavily from the motifs replete in tribal culture and its association with nature and Odisha's famous temple architectural style, the textiles and handlooms of Odisha have entered the living rooms of individuals from as far as US and Poland.
Handlooms of Odisha are mainly available in cotton and silk though the colours , patterns and methods of weaving differ for the 2 textured materials.The cotton fabrics with heavy drapes are woven of fine cotton threads tightly held together. the material is flannel wish to touch for its soft wooly weaving, unlike the luster of precious stones and metals of the silk fabrics.
Odisha's cotton handlooms and textiles are available in earthy patterns of the famous Ikatstyle of weaving. The Ikat handloom and textiles origin are often traced back to Odisha's rich maritime past when seafaring traders ventured forth on journeys to the islands of Indonesia, primarily Bali.
TEXTILES OF ODISHA
Textiles of Odisha may be a reflection of its cultural ethos with intricate weaves giving it a definite personality. The thread work, motifs and vibrant colours make them rich and desirable which will turn heads, make an unmistakable style statement and even be passed down for generations, making it a prized heirloom. Following are famous textiles of Odisha.
Sambalpuri Ikat:
Sambalpuri Sarees are the foremost wonderful sarees of India, these are produced in Western Odisha, mainly in Sonepur, Bargarh, Sambalpur, Boudh and Balangir Districts of Odisha. Each and every thread of the Sambalpuri Sarees are Handwoven. All the methods involved in weaving a saree is administered manually, no machine is employed in any of the steps.
Sambalpuri sarees in particular are known for the use of traditional themes taking after its relationship with this shoreline state, for instance , Sankha or shell, phula or flower, and chakra or wheel, swans, fish.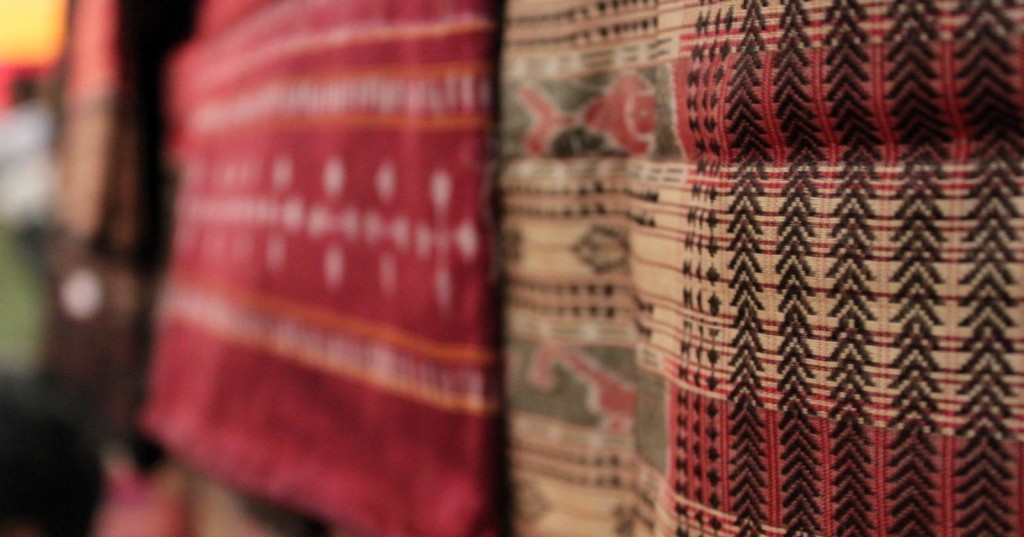 The most alluring part of these sarees is their association with Bandhakala-the customary craft of tie-dye, also referred to as Ikkat or Ikat. During this method, first, the threads are well tied and dyed then they're used for weaving. This complete process usually takes quite a fortnight to complete.
This kind has deep spiritual significance also . Each family of weavers preserves their own ikat fabric that has been woven by their forefathers, each generation adding on to an equivalent fabric to suggest change and continuity. The pallu, often the world that's adorned the foremost with motifs and styles , is seen because of the auspicious end of the garment that is a reminder of both god and tradition. One can say that this is often the closest we will get to tactile spiritual embodiment; it's no wonder that the ikat is the material upon which the oldest surviving sort of religious verses is found, known famously because the 'Gita Govinda cloth'.
Bomkai Silk:
Woven on a pit loom, Bomkai, which is additionally referred to as Sonepuri, is an unprecedented fabric that results from the confluence of two extremely popular components of the Odisha textile industry. In its simplest, Bomkai are often explained as an additional weft technique on a pit loom.It is an outcome of Ikat and embroidery interwoven into one another . The borders are often in contrasting colors and therefore the pallus marked by intricate threadwork. The motifs on the Bomkai are inspired from nature and tribal art, giving the saree a desirable look that creates it perfect for aristocracy. Bomkai sarees are available in cotton and silk fabrics.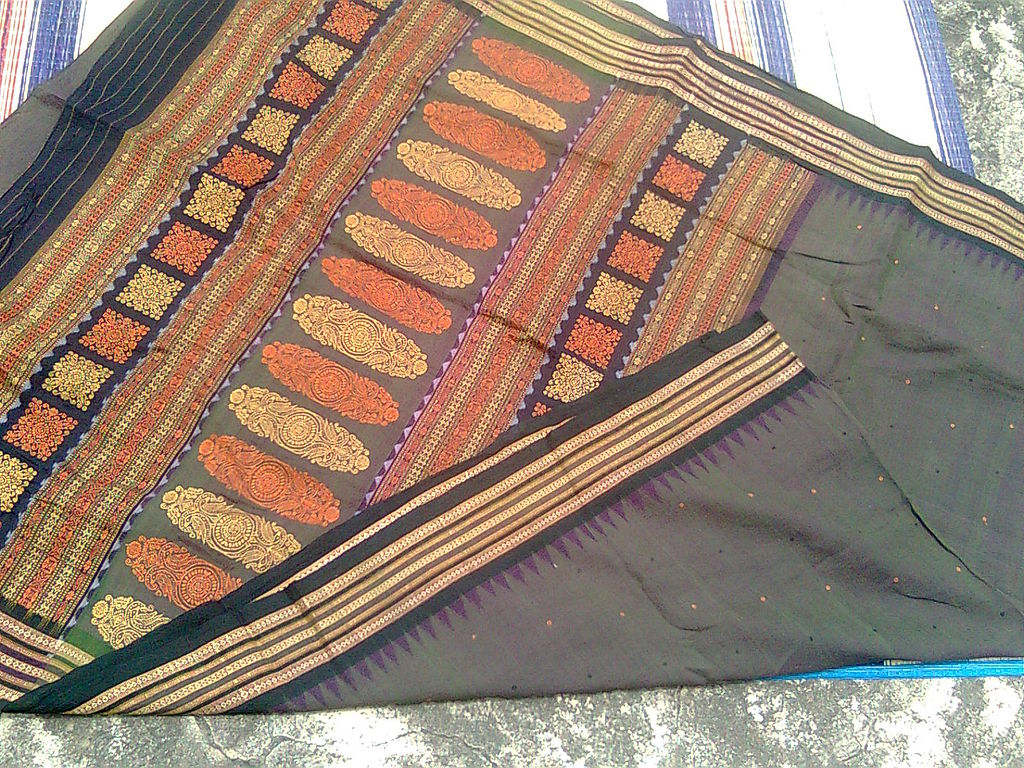 The motifs and styles portray mythology and well-kept secrets of the past. Inspired by folklore that springs from the roots of the Odishan culture, Bomkai is the heart of the textile industry of Southern India. However, Bomkai doesn't ignore the inspirations that nature offers to everyone completely freed from cost.
Designs composed within the most outlandish of concepts string together motifs from offerings of the environment including karela (bitter gourd), the atasi flower, the kanthi phul (small flower), macchi (fly), rui macchi (carp-fish), koincha (tortoise), padma (lotus), mayura (peacock), and charai (bird). a big a part of the finishing in Bomkai sarees are often attributed to the borders or pallavs. a number of the sarees feature border motifs that are inspired by tribal art. a couple of examples include, Mitkta Panjia, Kumbha, Rudraksha and Floral.
Berhampuri Paata :
Berhampuri Saree or Berhampuri Patta is a GI product from the Silk City of India, Berhampur in Odisha. Its unique feature is that it comes with an identical 'joda' for men. The 200-year old conventional Odisha weaving style is incorporated in its making. The temple or kumbha design falls into two categories; phoda or badhi. The zari borders are very eye-catching.
It is famous for its temple-shaped designs along the border and pallu portion. This paata has another distinction: it's draped around Lord Jagannath, Lord Balabhadra, and Devi Subhadra in Puri Jagannath temple.. they're worn at weddings and auspicious occasions.
Khandua Paata:
Khandua Sarees (Maniabandi or Kataki), dedicated to Lord Jagannath of Puri Dham, one among the sacred places of India, dates back to the 12th century. In Odia, 'Khandua' refers to the material worn within the lower half of the body. Manufactured in Nuapatna of Cuttack district, a Khandua is rightly termed as 'Pride of Odisha'. It is a standard hand-woven saree woven on wooden looms using pure tussar yarns. It is also popular for its ikat or bandha. It is commonly worn by women during weddings.
Kenduli Khandua of 12 feet and a couple of Kani (1 kani = length of one's hand) is engraved with stanzas and illustrations from Gita Govinda & is offered to Jagannath as Khandua.
The normal colours include orange, red and sunset yellow. The borders and pallu are generally seen in black, blue and red colors. the colours are extracted from Sal tree. The designs seen on the sarees are auspicious elephants, large many petalled flowers, a deula kumbha, and a singular Odishan animal Nabagunjara. It islight weight, barely 300 gms and a cushty fabric.
One sort of the Khandua is the Navakothi which has all the nine main motifs of – flowers, animals, leaves, peacocks, betel leaves and vessels. Khandua Paata is noted for the texts of Gita Govinda etched there on . Traditionally red or orange in colour, these colours are procured naturally from sal trees. This fabric originated in Cuttack and Maniabandha.
Kotpad
Kotpad Sarees are vegetable-dyed fabric woven by the tribal Mirgan community of Kotpad village within the Koraput district of Odisha. Out of the several Odisha sarees, these received the primary GI mark. These are usually cotton sarees with solid borders and pata anchal. The ingredients for the rich textures are aul (madder) tree roots, tussar silk, and cotton yarns. Albeit they need limited reminder color (black and maroon being the foremost common), they are eco-friendly, pleasant and shining.
they're also comfortable to wear during summers and winters. The motifs developed by the additional weft are axe, crab, bow, fish, temple, fan, conch and boat, reflecting the culture of the ocean . The sarees have befitting elaborate borders and styles counting on the occasion.
Habaspuri:
Habaspuri Saree may be a GI marked tribal handloom product from Odisha. The kondha weavers from Chicheguda, Kalahandi district are attributed to the weaving of this exquisite piece. It's name is taken from the Habaspur village where it had been originally woven during the 19th century.
The making of a Habaspuri is a time-consuming and painstaking process. The normal patterns in Kumbha style are etched out on the saree. It's basically a cotton saree. The weavers are trying hard to revive the dying art of this saree within the absolute best ways.
Saktapar/Pasapali:
Pasapali or Saktapar Sarees are one variant of the Sambalpuri sarees of Odisha. they're mainly weaved within the Bargarh district. 'Pasapali' comes from the word 'pasa' meaning chess or gambling games employing a chessboard. Hence, they need detailed chequered patterns of various variety and color combinations.
They are identified by the double ikat weave within the pattern of a chessboard and brocaded borders. Their unique symmetry makes them stand call at ethnic Indian fashion wear for ladies . Tussar, silk, pure organic cotton and their varied combinations function the bottom material for the material .
Pure silk threads are then woven to reinforce its glossy appearance. The anchal or the pallu has motifs like conch, flowers, animals, birds, temple, wheel and landscape.
Dongoria
Dongria Sarees are inspired by Dongria or the tribal kind of Odisha. they're woven in the Dongria Kondh tribe of the Munda ethnos , located within the Niyamgiri Hills from the districts of Rayagada and Kalahandi. they're handwoven pure soft cotton fabric. Natural products like dyes and cotton yarns make them eco-friendly.
They are rare and unique. they're generally thick weaves with bright and vibrant color play and geometric and straightforward designs.
Gamucha:
Gamchha may be a traditional Indian towel made from thin coarse cotton fabric. Although it's normally used for drying one's body after bathing, gamcha serves other purposes also. It forms a crucial item of men's clothing, especially of those belonging to the lower sections of the Indian society. As an example , one often sees physical laborers, like coolies, construction workers and farmers, carrying a gamcha on their shoulders.
Farmers keep the gamchha on their shoulders to wipe off the sweat while toiling within the scorching sun, the entire day long. Sometimes, they also spread it out on the bottom sort of a mat and take a nap thereon . In ancient India, travelers used the gamocha to hold food in it while journeying. It also forms one among the essential items offered to Indian deities during religious ceremonies.
SURFACE TECHNIQUES OF ODISHA
Pipili Appliqué Work:
Appliqué is art, a process of cutting coloured cloth into shapes of animals, birds, flowers, leaves, gods, goddesses and other decorative motifs and stitching them on a bit of fabric .
The traditional appliqué items are mainly used during processions of the deities in their various ritual outings. Items like umbrella, Tarrasa – a heart-shaped wooden piece covered by appliqué cloth and supported by an extended wooden pole and Chandua – an umbrella shaped canopy are usually seen during the processions. Another popular item may be a kind of frill which is employed as a border to canopies and also independently as an ornamental piece.
In modern Pipli applique work motifs used contain stylized representations of flora and fauna also as a couple of mythical figures. Of the more common of those motifs are the elephant, parrot, peacock, ducks, creepers, trees, flowers like lotus, jasmine, half-moon, the Sun and Rahu (a mythical demon who devours the sun).
Flat designs are first cut from cloth then superposed on the bottom cloth during a predetermined layout and sequence. the sides of the motifs are turned in and elegantly stitched onto the bottom cloth or stitched by embroidery or without turning as necessary. Craftsmen use straight stitch, blind stitch, stitch or stitch for attaching the pieces of fabric .
Pattachitra:
Pattachitra evolved from Sanskrit. When broken down into its two parts, Patta means cloth, and Chitra means picture. Hence, Pattachitra is a picture painted on a piece of cloth. This form of art is closely related to the cult of Shri Jagannath and the temple traditions in Puri. Almost all of the Chitrakar community hail from a small village in Puri district called Raghurajpur. This is also the only village in India where each family is engaged in crafts, such as patta painting, wooden toys, stone carvings, etc. For Pattachitra painting, the Chitrakars follow a traditional process of preparing the canvas. A gauze-like fine cotton cloth is coated with white stone powder and gum made out of tamarind seeds. This makes the canvas ready to accept the paint, made of natural colors. These colors are a unique feature of Pattachitra. The gum of the kaitha tree is the chief ingredient, used as a base for making different pigments by adding available raw materials. For instance, to get the shade of white, powdered conch shells are used.
Some of the popular themes of this religious art are The Badhia (a depiction of the temple of Jagannath); Krishna Lila (an enactment of Jagannath as Lord Krishna displaying his powers as a child); Dasabatara Patti (the ten incarnations of Lord Vishnu); and Panchamukhi (a depiction of Lord Ganesh as a five-headed deity).
A floral border is a must around the paintings, and so is the use of natural colors.
CONCLUSION
The state of Odisha has a strong handloom base and has carved out a niche for itself in the spheres of not just handlooms but also handicrafts. Applique work can be done on bedspreads, pillow covers, etc. This form of handicraft is very popular throughout the state of Orissa. Most of the works are inspired by the folk culture of the state. Patta Chitras are now used as wall hangings. Also the state capital , Bhubaneswar is full of arts and crafts, even it nurtures arts and crafts that are uniquely its own.