Nestled in the North-Eastern edge of Odisha's Chilika Lake, Mangalajodi is a place for bird lovers. With the onset of winters more than 200 varieties of migratory birds fill the air of Mangalajodi with life. These birds settle amongst thousands of water lilies in the wetlands giving a mesmerising view.
The beautiful blue lagoon and thousands of birds flying over the bright sunlight, the black and silver clouds mesmerize travellers. Apart from this, Mangalajodi is a landscape of Bamboo and Mango trees that gives an impression of natural ambiance.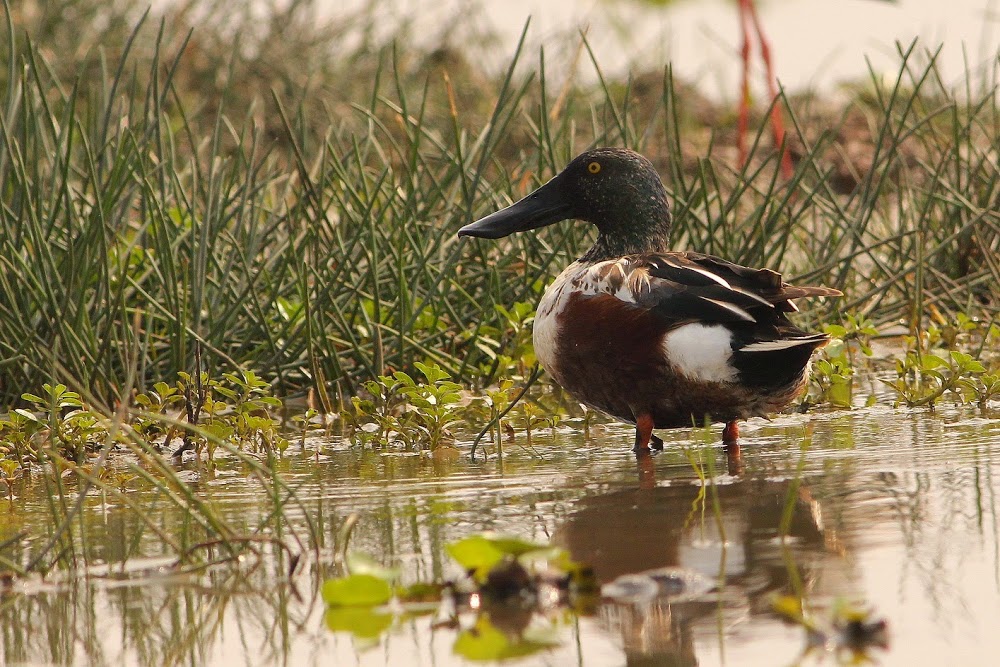 Mangalajodi has managed to find itself a place on the world tourism map for its unique conservation method. The wetland is also famous for being the second-highest assembly of migratory birds of Chilika Lake.
Location of the Mangalajodi Wetlands
Mangalajodi wetlands are a freshwater swamp located between 19° 54.823'N 85° 26.184'E and 19° 53.755'N 85° 26.332'E. The place is about 60kms south-west of capital city Bhubaneswar and 4 kms south-east of Tangi town in Khurda district.
An Abode to Migratory Birds
Since, Mangalajodi supports over 200,000 – 300,000 waterfowl in winter with populations of 15 species exceeding 1% of their bio-geographical population, it has been recognized as an IBA.
The examples of these birds include Black-tailed Godwit, Ruff, Tufted Duck, Red-crested Pochard, Fulvous Whistling-duck, Cotton Pygmy-goose, Northern Pintail, Northern Shoveler, Garganey, Eurasian Wigeon, Ruddy Shelduck, Purple Swamphen, Asian Openbill, snipes, sandpipers, pratincoles, crakes, bitterns, egrets, herons and other resident birds.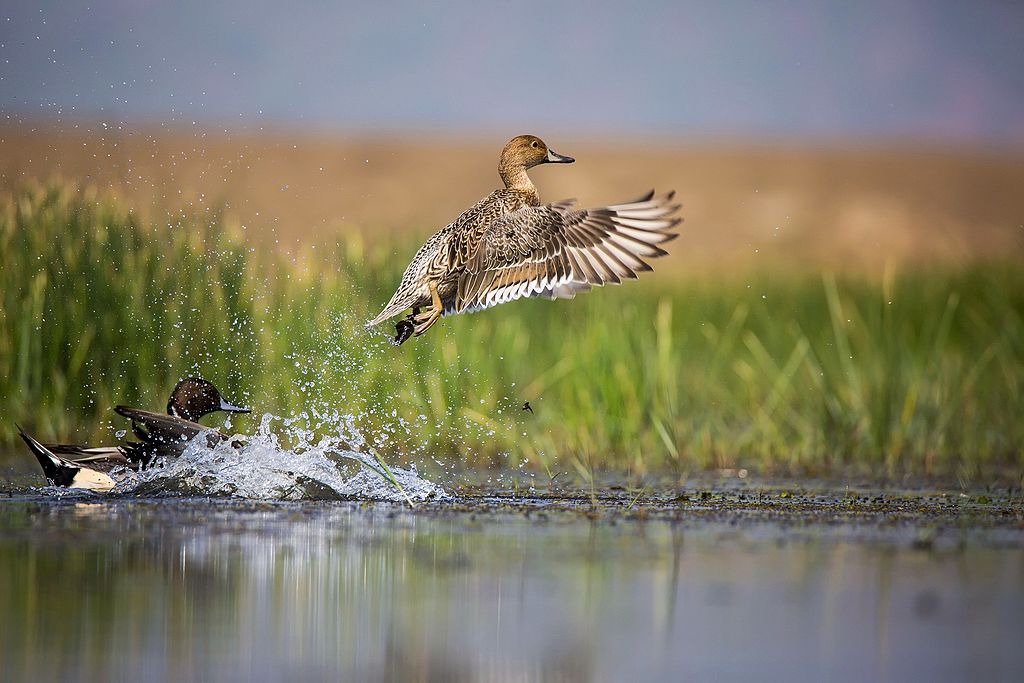 Raptors include Eurasian Marsh Harrier, Brahminy Kite, Peregrine Falcon and White-bellied Sea Eagle, while the Whiskered Tern is abundant in season. Black-tailed Godwits are the most evident ones.
Conservation
Large scale poaching has been a major threat to the Mangalajodi flora and fauna. In the ancient times, poaching provided an alternate livelihood to the 3,000 residents of the village. As a result, this threatened to destroy the area as a bird breeding and wintering habitat of immense importance.
In the year 1996-1997 Nanda Kishor Bhujabal and the members of Wild Orissa, an organization working on wildlife conservation issues took initiatives to curb poaching and provide alternate means of livelihood to the families. The Sri Mahavir Pakhshi Surakshya Samiti, was formed on 10th December 2000 that worked towards the conservative measures. Poachers were converted to protectors and made members of Samiti.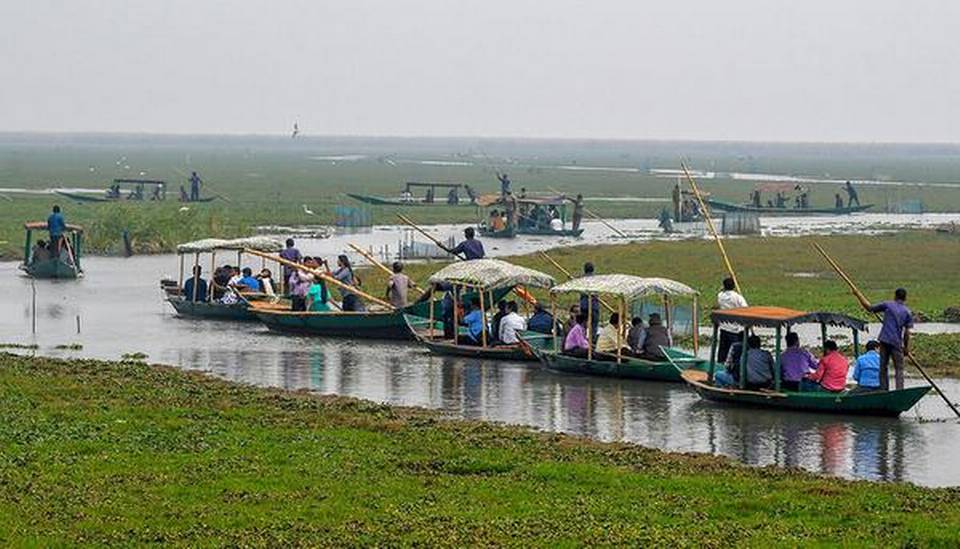 The Orissa Wildlife Department also provided seasonal employment by providing small wooden boats for patrolling and monitoring. The Chilika development authority provided monetary funding.
The initiatives were successful as the official census bird count at Mangalajodi rose from 5000 birds in 1999-2000, to 10,000 birds in 2000-2001 reaching a figure of 3, 00,000 birds in the year 2003-2004. The Sri Mahavir Pakhshi Surakshya Samiti was bestowed with the Pakhshi Bandhu (Friends of birds) Award by the Government of Odisha.
In 2018, Mangalajodi Eco Tourism Trust was awarded the prestigious United Nations World Tourism Organisation Award for innovation in tourism department.
National Chilika Bird Festival
The National Chilika Bird Festival, a new initiative by the Odisha government, takes place at Mangalajodi on January 27 and 28 every year. Various aesthetics are held such hosting bird watching trips, workshops, photography competitions, and promotional stalls in a bid to put Chilika on the world tourism map.
Nearest Places of Attraction
There's a trail that leads up the hill behind the village to a small cave where a local holy man lived for many years. It offers a sprawling view of the countryside.
A colourful Shiva temple can be accessed with a walk along a dusty path through the fields a few kilometers before the village.
Brahmandi potters' village is 7 kilometres from Mangalajodi which is worth visiting to see skilled artisans transform clay into a variety of products.
Best Time to Visit
Birds arrive at Mangalajodi by mid-October. The best time to visit is mid-December to February. The birds start bidding farewell Mangalajodi by early March.
How to Reach
By Air: Bhubaneshwar's airport receives flights from all over India.
By Road: The most convenient way is to take a taxi from Bhubaneshwar. The fare is around 1,500 rupees.
By Bus: Alternatively, if traveling by bus, the nearest bus stop is Tangi.
By Rail: Trains stop at Mukteswar Passenger Halt station that is a station between Kalupada Ghat and Bhusandpur railway stations.
Editors note: Mangaljodi is in actuality a community based conservation effort and as such is not officially classified as a sanctuary by the Govt. of India. It does however provide support to the people involved in the conservation movement.