Horn bone art in Odisha is known for its extraordinary features. The craftsmen of Paralakhemundi situated in Odisha's Gajapati district, make diverse things out of horn bone which are viewed as tokens of rich legacy of Odisha. The art crafts are an amalgamation of work of art and imagination.
Origin of the Craft
Horn bone of Odisha has been around since the reign of Maharaja of Paralakhemundi Sri Krushna Chandra Gajapati Narayan Deb during 1892. It is said that during a firecracker show a hollow horn was utilized as a holder. That is where the Maharaja watched an interesting trait of horn.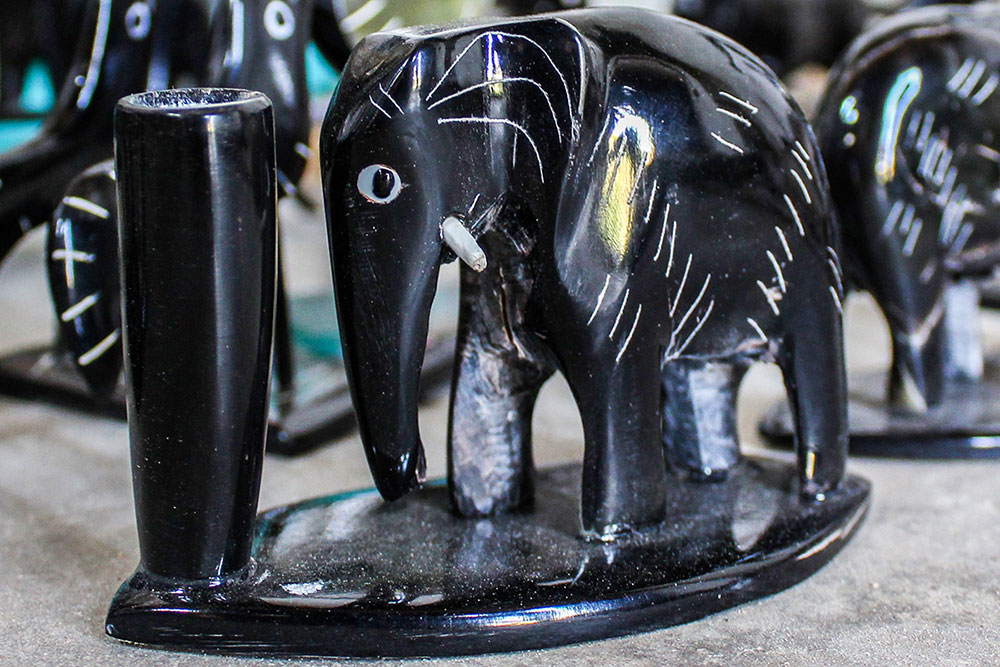 After watching this he requested a model to be made utilizing horn. He was so satisfied with the antiquity and furthermore understood the capability of the specialty that he set up a workshop and asked craftsmen to utilize horn. He made a devoted group for horn specialists who focused on the craftsmen ship of the item.
Horn and bone specialists were essentially craftsmen who figured out how to cut these materials while they were figuring out how to function with wood. They made fancy pieces, a significant number of which can even now be found in the Odisha State Museum. Truth be told, family products were for the most part made of horn or one preceding the coming of plastics.
Products made from Horn bone crafts:
A wide range of items are being made today, which include pen stands, layout, idols of god, lampshades and brushes. At times, Cuttack silver filigree is utilized alongside horn making. Throughout the years despite the fact that the items that are being made may have changed, the method where these relics are being made has not. Clans of Santhals, Oraons and Marijas for the most part practice this artistic expression.
Present scenario: Craftsmen Fear Loss of Job
In the area of Cuttack from around 150 to 200 craftsmen the number has reduced drastically to 2-3 craftsmen over 20 years. One of the serious issues these craftsmen are confronting is the accessibility of horns. Much of the time craftsmen have been captured for the ownership of these horns in spite of the fact that they have the necessary documentation for the possession of these horns.
Sometimes they even wind up going through a night or two in jail until all the records are submitted. As the crude material gets increasingly hard to get the fine art likewise gradually continues exhausting. Similarly, bone art utilizes bones like ivory to make things. As elephant ivory is currently restricted, it can't be utilized to make bone trimmings and different types of ivory like pig tusks are exceptionally uncommon and costly. Horn art is today polished uniquely by a couple of specialists and even they have hindered creation.
Horn is significantly more expensive than its other options. There isn't a very remarkable market for horn craft. Not everybody can take a shot at horns. Horn workers should be authorized by the administration. Probably it is to forestall poaching of jeopardized creatures for their horns yet requirement is self-assertive. Odia horn laborers use dairy animals or wild ox horn in their work and numerous craftsmen have been captured on doubt of sneaking horns in any event, when they convey official documentation.
Traditional craftsmen utilize the bovine and bison horn to make greater utility things like ashtrays, gems and brushes. Cranes, lobsters, scorpions and feathered creatures made of horn are done to an extent.
Govt. Needs To Do Its Part
The legislature additionally needs to do its part. Better implementation of the permitting framework will support a lot. Bothering certifiable specialists by the police should stop, as it has harmed the craftsmanship. Bringing in hoard tusks from these chases just as horns from abroad will resuscitate ivory work without risking uncommon creatures and help continue and advance horn craftsmen.