The festive season in Odisha revolves around a never ending cycle and undoubtedly, a number of festivals, related to traditions and religious beliefs are encountered in the state.
Holi is a major festival, celebrated all over India and has both religious and scientific aspects.
Different states celebrate Holi in various manners. Like in Paschim Banga, Holi is an occasion showcasing dignity and charms of fashion. While the Punjabis celebrate the festival by displaying their bravery and dare devil skills. Also, in the state of Rajasthan, Holi is predominantly a festival for women and in Maharashtra, Holi is celebrated with lot of enjoyments and fun as if there is no tomorrow. 
But in Odisha diversities are always unified by one thing, by celebrating with gaiety, Holi, the festival of colours. From the ancestral periods, people of Odisha celebrate Holi by colouring each others with different colours, followed by dance, music, cookies and other activities.
Odisha, the state of rich traditions and cultures, celebrates Holi with great enthusiasm and spirits, with blessings of Goddess Radha and Lord Krishna.
The Legend Behind Holi
Bhakta Prahlad, a benevolent devotee of Lord Krishna always worshipped his Lord. But disturbed and threatened to stop worshipping Lord Krishna by Hiranyakshyap, his father. Hiranyakashyap thought himself as God and no one would be superior to him. So he wanted to kill his son and tried so many ways to kill him but could never succeed. Hiranyakshyap had a sister, Holika, who had been blessed by the God to have a win over the burning fire. Holika sat in the blazing fire, keeping Prahlad on her palm and to everyone's surprise, Prahlad was found unharmed due to his devotion towards Lord Vishnu while Holika got burnt in the fire due to her cruelsome nature. So, Holi is celebrated to mark the Holika Dahan.
Holi also celebrates the legend of Radha and Krishna which describes the extreme delight, Krishna took in applying colour on Radha and other gopis. This prank of Krishna later, became a trend and a part of the Holi festivities.
When Is Holi Celebrated ?
Holi is celebrated at the end of the winter season on the last full moon day of the lunar month Phalguna usually falls in the month of February or March. The tithi ia also known as Phalguna Purnima, or Dola Purnima.
How is Holi Celebrated in Odisha ?
Dola Purnima , The Day Before Holi
The rich mythological tradition related to Holi in Orissa starts just a day before Holi, which is known as Dola Purnima. This festival is very important for the 'Gaudas'or 'Gopalas'. On Dola Purnima, the idols of Lord Krishna and Goddess Radha are carried inside a palanquin and roamed around the village or town by the people. Not only Gopalas, but everyone take part in this. The deities are coloured by spraying 'Abeera'(coloured powders) at them. Cows are also coloured and offered food as cows are worshipped as mother in Hindu religion. 
It is written in mythologies that Krishna was a Gopala (Cowherd) and used to go after the cattle to the forests. Hence, Krishna and his wife Radha were believed to have played Holi on this Dola Purnima day sitting on a swing. The name Dola is derived from the same. Purnima is the full moon day in Odia.
In the evening, the Gopalas carry the palanquin on their shoulders. Games such as Dandi Khela are also played to mark the occasion. Special food items such as Peetha, Mitha and Cookies are also served amongst people.
The Next Day is Holi
People in Odisha start cleaning up their houses and redecorating it to welcome Holi. The ladies of the house start preparing snacks and cold drinks for the day and along side arrange for playing colours.
In Odisha, people celebrate Holi with great fervor and gaiety to hold the harmony and brotherhood, which is the motto of celebrating Holi, the festival of colours.
The festival is often celebrated with solemnity and splendour all over Odisha. Whether be it a village, a remote area, or may it be an urban area, Holi is celebrated with great joy everywhere in Odisha including Cuttack and Bhubaneswar, Rourkela, Sambalpur, Berhampur, Bhadrak, Balasore, Keojnjhar and various other places.
The celebration starts early in the morning when people colour each others with spray of colored powders or Abeeras. Kids spray water color by using their Pichkaris and elder do use water colors to color their near and dear ones. The fun of colouring and being coloured continues whole day. It becomes hard to go out of home as someone might throw buckets of color on you on the road. Well, you can't complain because it is said, "Bura Na Mano, Holi Hai". The streets and people, all look decorated with gradients of colours and creates a scene of colourful canvas.
A special type of drinks, called Pana, is served on the occasion of Holi. As the summer heat strikes and there is a need for hydration, the drink Pana gives both the delicious taste and coolness to body. It is also said that the drink Pana has great health related benefits.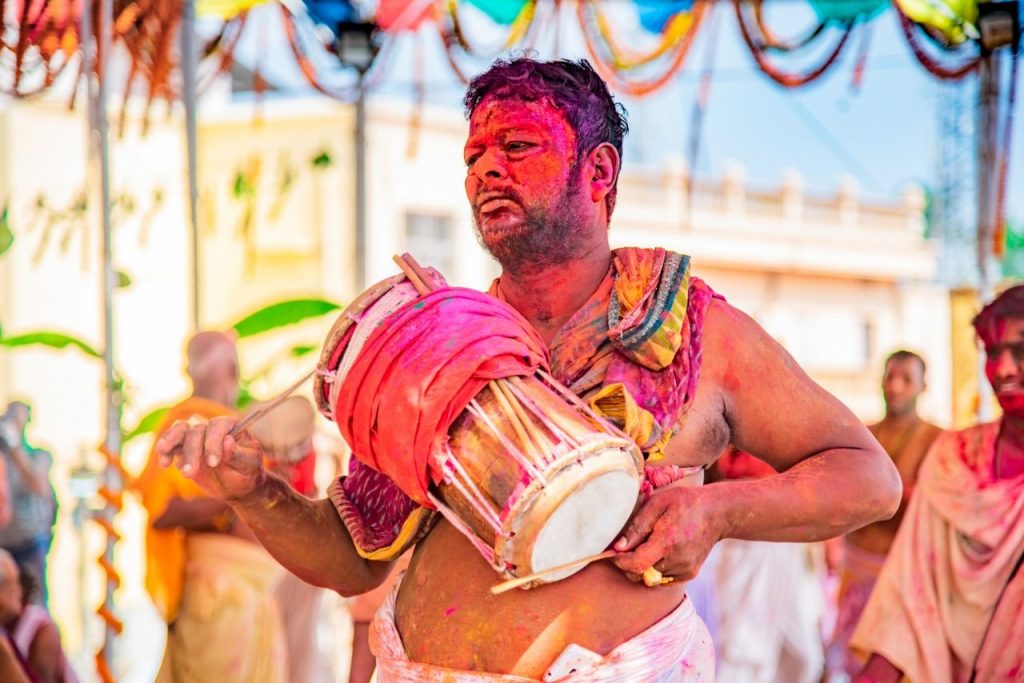 After a full day's tiredness and play of colour, people take baths in rivers and ponds, but the colour marks remain on the bodies for longer.
Thanks Giving for Good Harvest
Holi falls as per Hindu Calendar at a time of the year when the fields are in full of crops and greenery and people are expecting a good harvest. The wealth and prospects bring happiness and an occasion for celebration. This gives people a good reason to rejoice, make fun and bind themselves together in the spirit of Holi.
The festival Holi, celebrated a day exactly after the Dola Purnima, is hence a festival of 'Thanks Giving' to the God for a good harvest.
Holika Dahana
At night on the day of Holi, people celebrate Holika Dahan, a ritual of a bonfire in which the puppet of Holika, the cruel sister of Demon King Hiranyakahyap is burnt. Everywhere in Odisha, the Holika Dahana is observed with sparks of light, fire crackers.
Burning of Holika (Holika Dahana) is spiritually the symbol of victory of good over evil. Later, married women carefully sweep away the ashes of the bonfire, to mark the spot with drawings made out of a paste of powdered sun dried rice and water.
Conclusion
The best part about Holi is, it does not diversify the people based on age, sex or religion. Everyone, even the Muslims, Christians and Sikhs also enjoy playing Holi. It is a festival of brotherhood, a great significance of communal integration, Holi, always fills the pores of the Country with colours of togetherness and happiness.
So, this Holi, don't sit inside. The doctors have also agreed that spraying colours on your body, has much more health benefits. The skin problems stay away by sprinkling Abeera on body. Everyone come out with your family, friends to enjoy the festival of Colours, by Just keeping a note of safety, not to destroy the fun.