Within a forest area about 30 kms from Keonjhar town of Odisha state lies a beautiful hill called Gonasika. The spectacular views of this area, being within a deep forest, is very stunning and attracts a lot of nature lovers.
The word 'Gonasika,' in Hindi, Sanskrit and many other languages, means Nostril of Cow. The source of water is a rock, which is shaped like the nostrils of a Cow. This is the source of the mighty Baitarani River of Odisha, as per mythology and local belief. This point of the hill has no sign of any water flow or source coming from above. Clean and pure water comes out  from both nostrils of the stone, clearly visible as the upper mouth portion of a cow . This can be viewed to you as 'Gomukh' or the mouth of a Cow. In earlier times, it is said, water came from one nostril and sand from another. But, now  crystal clear water flows from here uninterruptedly.
During the monsoon and winter seasons, the beauty of this place becomes more appealing. The river eventually goes underground, which is a mysterious thing to visitors, and re-emerges to be collected inside Brahma Kunda, for which it is known as Guptaganga.
The Gonasika Temple is surrounded by picturesque green valleys, and it is renowned for its pilgrimage centre up rolling hills of different colours. The famous temple of Brahmeswar Mahadev was built by Creator Brahma himself on the side of the Baitarani River.
King Laxmi Narayan Bhanja designed the shrine of Lord Shiva between 1654-1688 AD. For visitors, this place is completely secure, as a village called Gupta Ganga is located nearby. In and around this small temple, which is called the 'Jata' (bunch of old and uncombed hair) of Lord Shiva, large tree trunks are distributed.
The Story of Gonasika: River Baitarani & Juangs
In the good old days, a rishi stayed in Gonasika. He was also a bachelor. He overheard someone approaching him one day when he was sleeping. There was an Asur Tribe girl who had come in search of solitude. At first sight, both fell in love. They married in no time and gave birth to seven sons and seven daughters in the course of time. The question now was how to settle them. Gonasika hill was insufficient for their shelter and provided food for them. They wanted farmable fields. The couple prayed to the Almighty with no other choice.
Dharam Devata showed up and commanded the rishi to kill the Kapila cow and spritz her blood to make the earth stable. The rishi brought Gonasika's cow and killed her. Then he sprinkled the world with her blood. The earth thus became healthy, making it perfect for the children of Rishi. They were the first Juang people on earth.
The first Juang family savoured the meat after the cow was killed and buried the head in the middle of the hill, but mysteriously water sprang from the cow's nostrils and gave birth to the holy Baitarani River.
Juang Tribe
The wonderful place is rich in exotic biodiversity and a rare place for observing the life of tribal juang. The Juang is one of Odisha 's primitive tribal communities. The word "Juang" means "Sons of Man." The Juang believe they are the first human beings on earth to be created. Their ancestors were born to a couple of Rusi (the saint and his wife) who lived in Rusi Tangar, a hill near Gonasika.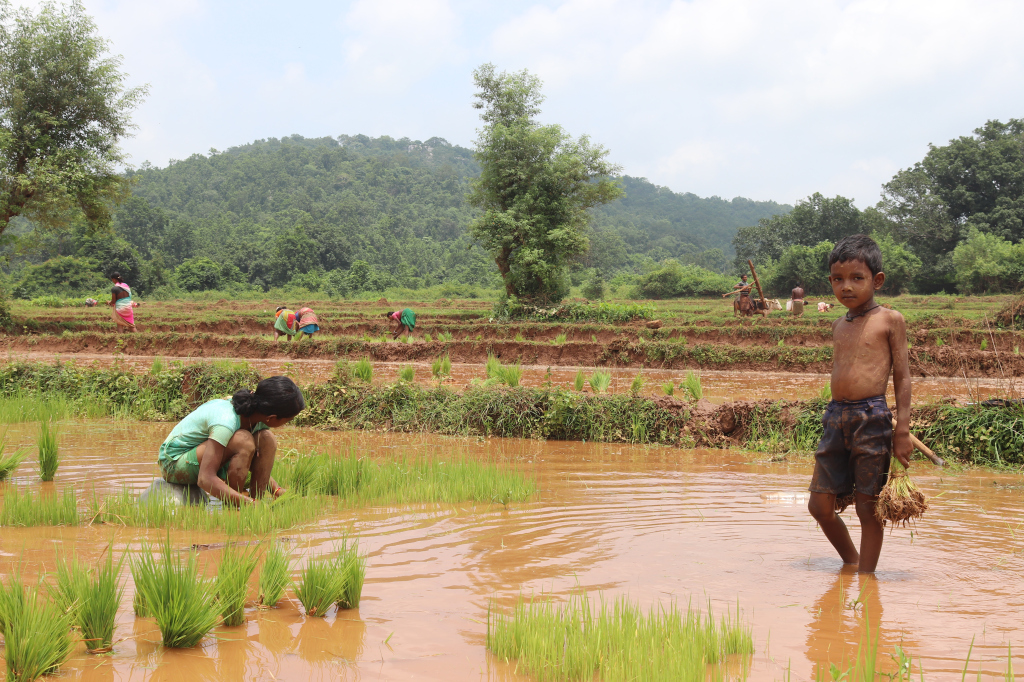 Most of the villages in Hill Juang have uni-clan composition; the law is village exogamy. Each village in Juang is an autonomous socio-political unit run by a collection of traditional leaders and a village elders' corporate body named bhalabhai or barabhai. The group of the village owns and maintains all the productive and useful natural resources that lie within its village boundaries, such as swiddens, woods, grazing land, and housing sites etc.
They are medium in stature with a long head, a pronounced cheekbone and a large nose that are related to the native tribes in the Mon-Khmer region of Mainland South East area.Their language is Mundari belonging to Austro-Asiatic language group spoken in parts of Eastern India and Mainland Southeast Asia.
Fauna around Gonasika Temple
This fascinating landscape is enveloped by enigmatic forests of sal trees once overflowing with tigers and leopards. When you speak to the souls of this enchanting country, you hear countless elephant tales.
How to Reach Gonasika Temple
By Air. Bhubaneswar, is the closest airport in the state connected to different parts of the country through regular flights. You can take a bus straight to Gonasika from Bhubaneswar or you can take a train to Keonjhar and hire a cab to Gonasika.
By Train. Kendujhar Railway Station is only 40 km away.
By Road. The Hill is only 40 km away from Kendujhar.