Of the few Indian participants who earned the prestigious medals in the 2018 Asian Games hold in Jakarta, Indonesia, Dutee Chand became one of the girl from Odisha to bag silver in 200 m in women's category. She is a professional sprinter from Odisha. After her incredible achievements as an Indian, she becomes the third Indian woman ever who qualified for the women's 100 meters event at Summer Olympics.
She is compared with the legendary athlete PT Usha due to her matchable feat with the later. Struggling in life up to extreme, going through every possible hard works, Dutee becomes an illustration of inspiration for all the country people.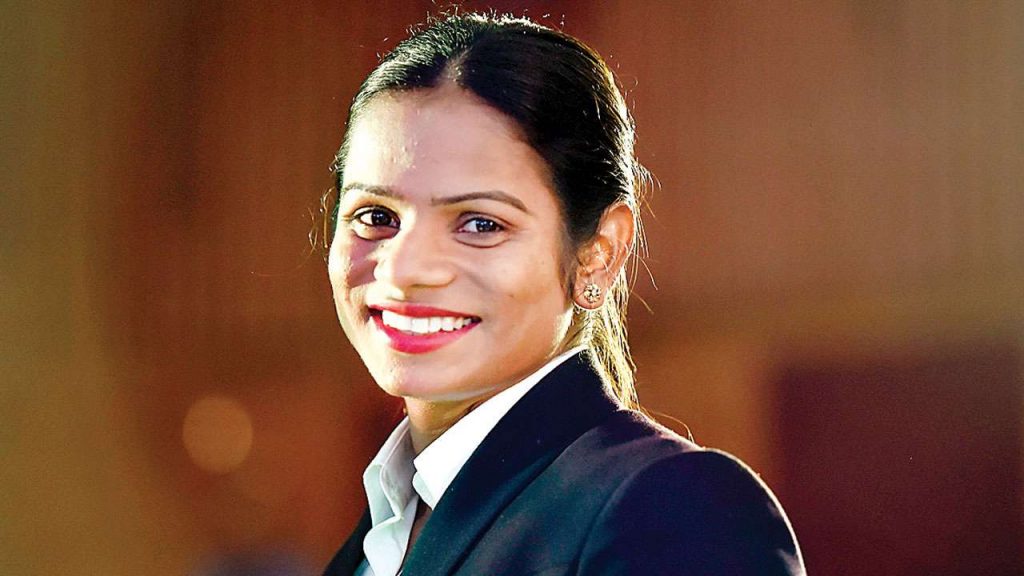 Poverty could never stop her and she defined herself as an international champion.
Dutee is now considered as the pride of Odisha as well as India. The whole nation is expecting her to clinch some medal in the forth coming Olympics Game.
Early Life and Poverty
Dutee was born on 3 February 1996, in Jajpur district of Odisha. Her father Chakradhar Chand and mother Akhuji Chand are weavers and they live below poverty line. It was never easy for Dutee to become a champion.
It is said that poverty destroys so many dreams. Due to unavailabilty of necessary items, poor people never dare to clinch for somethig better and bigger. But Dutee breaks all these myths. Starting from the soil, she went on to the skies of success.
She even didn't have money to get trained. She didn't have money to buy shoes for running. Saraswati Chand, elder sister of Dutee, inspired her. Dutee's sister Saraswati had competed in running at state level. She inspired Dutee to achieve. She often took Dutee to the river bank and told her to run on the river sand. She couldn't even afford a running shoe. Still she dared to run bare foot and her sister measured the time period. It was then, Dutee started her practices to clinch the medal. Saraswati studied law later and is now working as an executive officer in the state PSU of The Odisha Mining Corporation Ltd.
Dutee's Running Career
Dutee became a national champion in 2012 after competing in the under-18 100 meters running event in which she completed the run in 11.8 seconds.
In 2013 Asian Athletics Championships (held at Pune), Dutee bagged the Bronze medal clocking 23.811 seconds.
In the same year, she reached the final of a global athletics 100 metres, in the 2013 World Youth Championships. She is the first Indian woman to achieve so.
She also became the national champion in 100 metres and 200 metres in the same year by winning when the events clocking 11.73 s in the final in 100 metres and a career-best 23.73 s in 200 metres at the National Senior Athletics Championships at Ranchi.
Dutee became the third Indian woman to participate for the Women's 100 metres at the 2016 Rio Olympics, but she could not achieve in the event clocking 11.69 seconds.
Dutee clinched two bronze in the Asian Athletics Championship, including one in the Women's 100 metres, another in the Women's 4×100 m relay with Srabani Nanda, Merlin K Joseph and Himashree Roy at Bhubaneswar.
Dutee won the Silver medal at the 2018 Asian Games in Jakarta in the 100 m category.
She gave the country two medals in total in the Asian Games 2018 which gained her the badge of a prominent athlete.
The first medal came on 26 August 2018, in the 100 m event, in which she bagged Silver and the second one on 29 August in which she bagged another silver in the Women's 200 metres final.
She is compared with legend runner PT Usha as her silver in 100 m, was India's silver medal in this category after 32 years since P.T. Usha won in 1986.
The Biggest Controversy in Dutee's life : Hyperandrogenism Controversy
In June 2014, she won two gold medals at Asian Junior Athletics Championships in 200 metres and 4x400m relays. In the 200 m event she bettered her previous timing to 23.74 secs and hoping to get qualified for the Commonwealth Games but Chand was dropped from the 2014 Commonwealth Games contingent at the last minute after the Athletic Federation of India stated that hyperandrogenism made her ineligible to compete as a female athlete.
Following Commonwealth Games she was also dropped from Indian contingent for 2014 Asian Games. There was no suggestion that Chand has been involved in cheating or doping—the decision was made in compliance with International Olympic Committee (IOC) regulations on "female hyperandrogenism" designed to address a perceived advantage for female athletes with high androgen levels. The decision has been condemned by Australian intersex advocates. The Athletic Federation of India and IAAF's actions were widely criticised as an affront to Chand's privacy and human rights.
They have tested her at the last minute, humiliated her and broke her heart.
She conveyed her emotions in pathetic words before media.
But it all got cleared.
Once again Dutee started taking part in track competitions and participated at the 2016 Asian Indoor Athletics Championships in 60 metres where in the qualification round she set the Indian national record clocking in at 7.28 secs and went on to win the bronze medal in the final, clocking a time of 7.37 secs.
Support from the Government
The Government of Odisha provided Dutee Chand with an amount of ₹3 crore from for winning the silver medals at the 2018 Asian Games.
She has also been honoured with India's honorary civilian award, Padma shri in 2019.
Dutee An Inspiration for the Youths
The feats and accolades gained by Dutee proves nothing can stop a true hard worker from achieving anything. Being born in a poor family, she never complained about life. Rather used whatever she had in a positive way. Our state Odisha has a number of hidden talents. Sometimes these talents don't come to the spotlight abide by the fear of the society or due to lack of resources.
The success of Dutee in the world's greatest sport Olympics proves if you aim higher and work with determination, nothing remains impossible. Dutee,the exceptional sprinter from Odisha is truely an inspiration for all the youths dreaming of achieving whatever they want.