Baliyatra festivals in Odisha signifies the confluence of all religious festivities , & is organised during the Kartika month.   The name Bali Jatra means 'A Voyage to Bali'.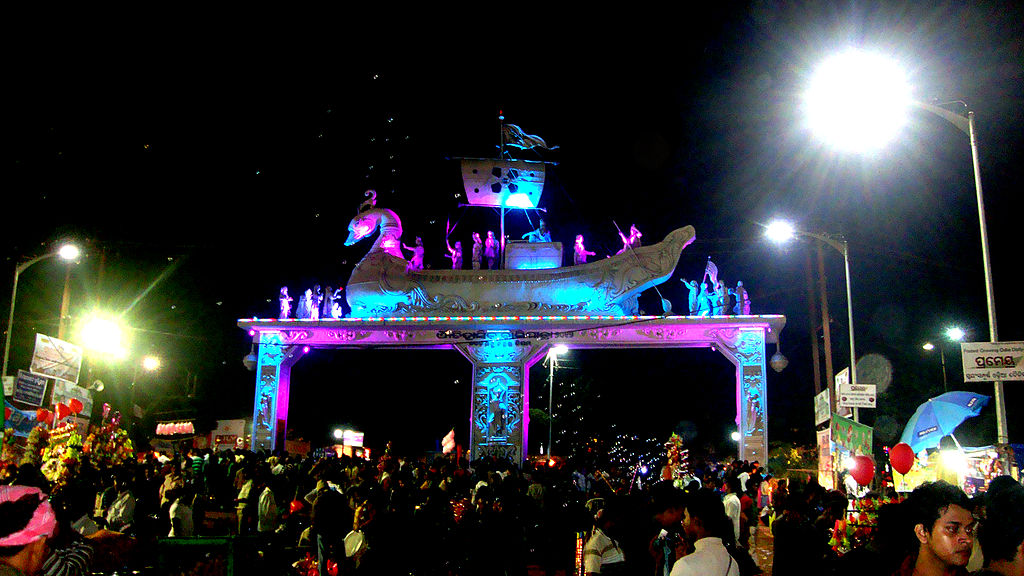 Odisha was one of the most important ports in ancient India and sailors used to travel from here to wealthy countries to reap the benefits of trade opportunities. Bali Yatra is celebrated as a reminder of Odisha's ancient maritime heritage, honoring the merchants' journeys to the Bali, Sumatra and Java islands along the sea trade route.
The arrangements for this festival begin far ahead of time. A lot of  enthusiasts all over Cuttuck buy  small boats crafted of cork, banana tree bark or colored paper (known as Boita) . 
Cuttack men and women gather near the Mahanadi river on the first full moon night of November and pray to the gods to keep the sailors safe and wish them a good journey. The well-decorated boats are then set to sail along the Mahanadi and are lit with small lamps. The view of hundreds of tiny boats floating over the Mahanadi is an eye-catching treat.
Throughout the festival, the Odisha government organizes various tours and packages for visitors to get a wider look and feel of the culture and richness of the state.
Odisha as a state is renowned for its diversity and heritage which illuminates during this festival.
A grand fair is held at the Bali Yatra Festival, which showcases a great range of products and accessories for sale and purchase.
This huge market is ready with goods, commodities and appliances signifying traditional crafts to modern appliances as open markets for all peoples.
Cuttack Baliyatra provides traders and artisans the best opportunity to showcase their merchandise to a large number of people.
Organic spices, like turmeric from Kandhamal, Rayagada, Koraput, Mayurbhanj, and Nabarangpur , Koraput and Deogarh rice, Ganjam, Dhenkanal and Athagarh pickles, Kalahandi and Kandhamal wooden crafts, Nayagarh and Dhammapada cane and bamboo crafts, and Balangir and Dhammapada terracotta products, are sold off at the fair like Mathura cakes.
Woollen Kashmir winter coats, Cuttack's Maniabandha Handloom sarees, Rajasthan bed sheets and Leather goods and Punjab footwear are also highly in demand at the fair.
Gandi Shilpa Bazaar is another fascination  at the festival that boasts more than 150 stalls of traditional silver and handicraft products.
On your trip to the Baliyatra festival in Odisha, you can indulge your shopaholic side or go on boat rides under the full moon. The concerned authority also conducts boating activities for the tourists which is the highlight of this beautiful festival.
Foodie's Delight
Satiate your appetite by tasting some of Cuttack 's regional delicacies while strolling through the stands of this extensive fair. Many quality eateries thrive in the fairgrounds. While you can get food of every kind here, do take time out to taste Odisha's specialty foods such as dahi bara aloo dum, thunka puri, chaat etc.
Highlights of the Festival
More than 1,500 stalls, including new technology, household crafts and traditional products, are displayed in the lower and upper Bali Jatra grounds. As one of Odisha's largest festivals, Bali Jatra receives nearly 3 tourist lakhs each year.
The festival also includes a Pallishree Mela, which houses traditional products from 24 Indian states.
The Bali Yatra has changed a lot over time but the spirit of celebrating this event has remained the same. It brings new hopes for the region's small traders, who are getting a platform to showcase their talent. The festival also brings nostalgic memories of the rich history of Odisha, and casts a magical spell on the onlookers' minds.