Odisha offers a variety of cuisines prepared in every household and also available in top hotels and restaurants. But some delicious and authentic food items specially for the non vegetarians listed below are of great taste and delegacy. After reading the post, we are sure you will have your tongue licking to taste all these. Don't panic. We are also offering the recipes so that you can try these at home of your own. Especially during the hard times like the lockdown, you would be searching to try for much more recipes. If you are a non-veg lover and want to discover some Khanti Odia dishes, please scroll through. These authentic non veg cuisines from Odisha will surely salivate your tounge.
Rohi Machha Jhola  (Rohu Fish Curry)
Rohi Machha (Rohu, a typical river fish) is the popularly eaten fish in Odisha and all eastern states. A thick gravy curry prepared from Rohi fish adds a mouth watering taste. The popular Odia dish is prepared in every households.
First, the pieces of the fish are washed properly. Mixed good with a pinch of salt and turmeric powder, the fish is stored for a while. For preparing the gravy, garlic, ginger, onion and red chilly are mixed and grinded together. Oil is taken in a pan and the fish is fried well. After frying the fish, oil is heated in another pan and all the spices are added into it. After the spice is turned to gravy, previously fried fish pieces are added. Adding a little water, the curry is done in a few minutes.
This awesome dish can be served hot with rice or roti.
Machha Chencheda (A Fish Dish)
Another delicious dish made of fish is Machha Chhencheda (Chhencheda means a mixed curry). This mouth licking dish is prepared from selected pieces of Machha Munda ( Fish heads). The pieces of fish heads fried deep in oil are mixed with other vegetables like Cabbage, brinjal, tomato, potato and is cooked with some spices.
Prepared with authenticity and delegacy, Machha Munda chhencheda is one of the favourite odia dishes and should be tasted once.
Chingudi Rai (A Special Dish from Prawn)
Most of the people in Odisha are prawn lovers. There is always a special demand for the prawn dishes. Chingudi Rai is one of such delegacies.
Chingudi (Prawn) is cleaned well and mixed well with turmeric powder and salt.
Oil is heated in a pan, prawn pieces are fried slightly. Some oil is heated up in another pan and some mustard and curry leaves are fried. Chopped onions and garlics are added.
When the onions turn red, add some tomato and fry. Followed by addition of red chilly powder, turmeric powder and salt, Chingudi (prawn) is added. The blend is fried till it is cooked nicely. It can be served with rice.
Machha Besara (Fish with Mustard Spices)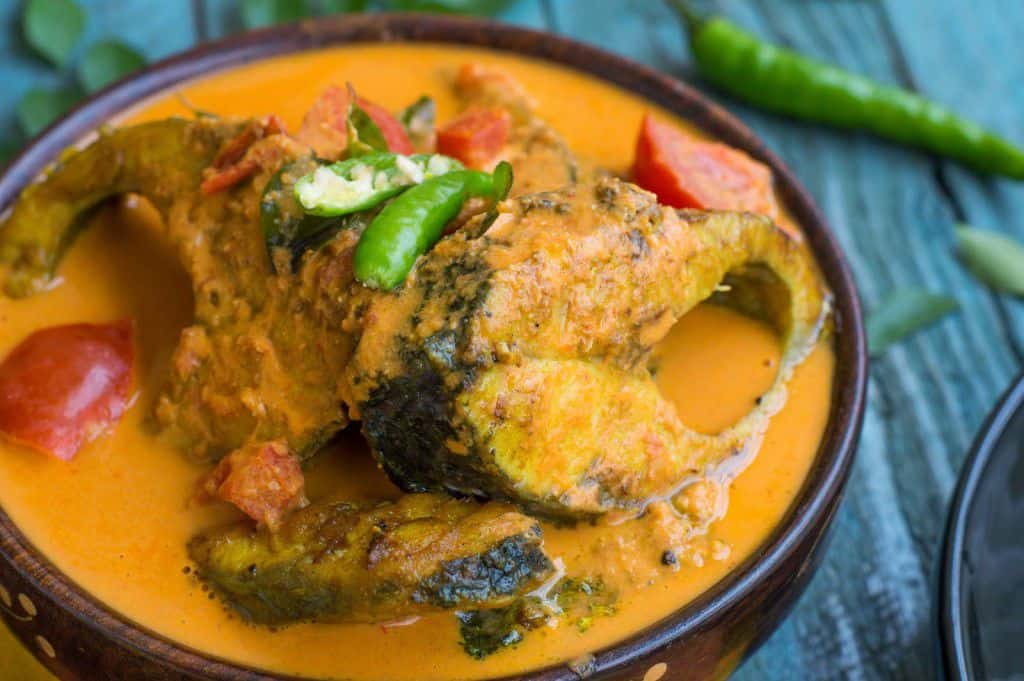 Besara is a typical Odia style spice made by mixing various ingredients like Jeera (Cumin Seeds) and Sorisha (Mustard Seeds). Machha (fish) cooked with Besara as a gravy serves delegacy of taste to the eater's tongue. The famous fish recipe involves the deep frying of small fish pieces after marinating them with a bit turmeric powder and salt. The fine grinded Besara (Mustard Seed paste) and other gravies should be cooked well in oil. Finally, the fried fish are added and cooked well till the raw smell vanishes.
The Desi odia food Machha Besara is so popular in each and every household and is also available in famous hotels and restaurants.
Desi Kukuda Tarkari (Homely Chicken Curry)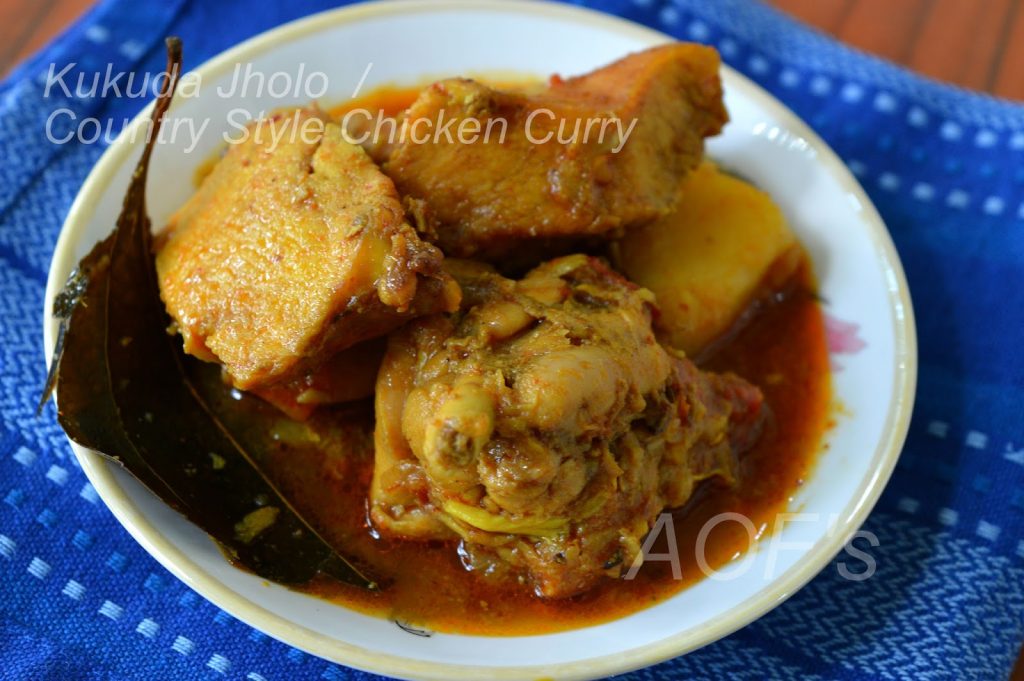 Chicken for its affordability and delicious taste is adored by most non vegetarians. The finger licking test of chicken is available in many forms of dishes. But Odia style chicken curry is something different to taste. Here in Odisha, we cut small pieces of potato and fry them well in hot oil. Chicken pieces are cleaned well and are marinated using turmeric powder, red chili powder and salt. Onions are chopped and fried inside oil. A paste of ginger and garlic is then added, followed with spices and salt, marinated chicken and fried potatoes. All the ingredients are cooked well followed by addition of water (which we call jhola). Done and served hot with rice or roti.
Chuna Machha Chudchudi (Small Fish Fry)
Chuna Machha (Small fish) is a major source of Vitamin D and Chuna Machha Chudchudi is one of the most healthiest and yummy dishes of Odisha. Small fish is washed properly and fried in oil. Mixed inside a gravy of garlic, ginger and onion, the dish is prepared. It can be best served with boiled rice. Must have a try.
Dahi Machha  (Curd Fish)
The famous Odia -Bengali dish is ever popular.
Prepared with curd and other spices, Dahi Machha is both delicious and healthy to eat. This is a must try and is definitely a lip-smacking hit! The sour and sweet combination of taste can simply leave an incredible experience within you.
Chingudi Dalma (Prawn Vegetable Curry)
A mixed veg type curry, prepared with prawns and a mix of exotic vegetables, serves before you a finger licking experience for sure. This is one of the healthiest dishes of Orissa and calls for one time try. Dalma is itself a famous dish of Orissa, made of mixed vegetables. Chingudi is a nonveg item and when mixed in dalma (a pure veg) Chingudi Dalma takes the atmosphere of the dining table to heaven. Must try this Odia dish.
Sukhua Tarkari (A Curry from Dried Fish)
Even though Sukhua is available in every state of the country, Sukhua in Odisha is an emotion. Sukhua is dried pieces of fish with added flavours like salt and other minerals. Fish when dried is called Sukhua. The Curry (Tarkari) of Sukhua is a popular Odia non-veg dish prepared with Sukhua and different spices.
Sukhua is first washed well in water. Then Sukhua is fried a bit in oil. A gravy of spices containing Red chilly, Turmeric powder, Ginger and Garlic paste is cooked in oil and the fried Sukhua is mixed well. Cooked gently for the gravy to be mixed well and Sukhua to be cooked well, we get Sukhua Tarkari.
Sukhua is available in two forms. One is Alana Sukhua (Non-salted Sukhua) and another is Luni Sukhua (Salted). Each of these has their unique tastes and can be served with rice. Sukhua is available in Odisha through out the year but Baliyatra festival in Odisha is the best place to buy Sukhua. This traditional and authentic but tounge licking dish should once be tasted in life.
Machha Patra Poda (Burnt fish in a leaf)
Maccha (fish), burnt in a leaf (leaf in Odia is called Patra, mainly sala patra is used) serves better taste. The dish is prepared in pure home style by placing fish blend with mustard paste and wrapped with leaves kept inside a Chuli ( Coal or wood combustor). This heavenly dish Machha Patra poda is served with rice and garnished with some spices, onions, green chillies.
Due to use of less spices and nearly no oil, the dish is a must try for health freaks.
Bound in homes during the crisis of Covid-19, try out these recipes and please everyone with taste.